The TDA2040 is a monolithic integrated circuit in Pentawatt  package, intended for use as an audio class AB amplifier. Typically it provides 22W output power (d = 0.5%) at Vs = 32V/4Ω. The TDA2040 provides high output current and has very low harmonic and cross-over distortion. Further the device incorporates a patented short circuit protection system comprising an arrangement for automatically limiting the dissipated power so as to keep the working point of the output transistors within their safe operating area. A thermal shut-down system is also included.
ABSOLUTE MAXIMUM RATINGS:
Vs – Supply Voltage: ± 20 V
Vi – Differential Input Voltage: ± 15 V
Io- Output Peak Current (internally limited) 4 A
Ptot – Power Dissipation at Tcase = 75 °C: 25 W
Tstg, Tj – Storage and Junction Temp. -40 to 150°C
Schematic diagram of the audio power amplifier tda2040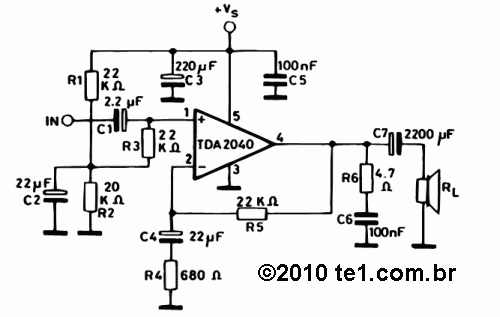 Suggestion for PCB amplifier circuit tda 2040 – 200% zoom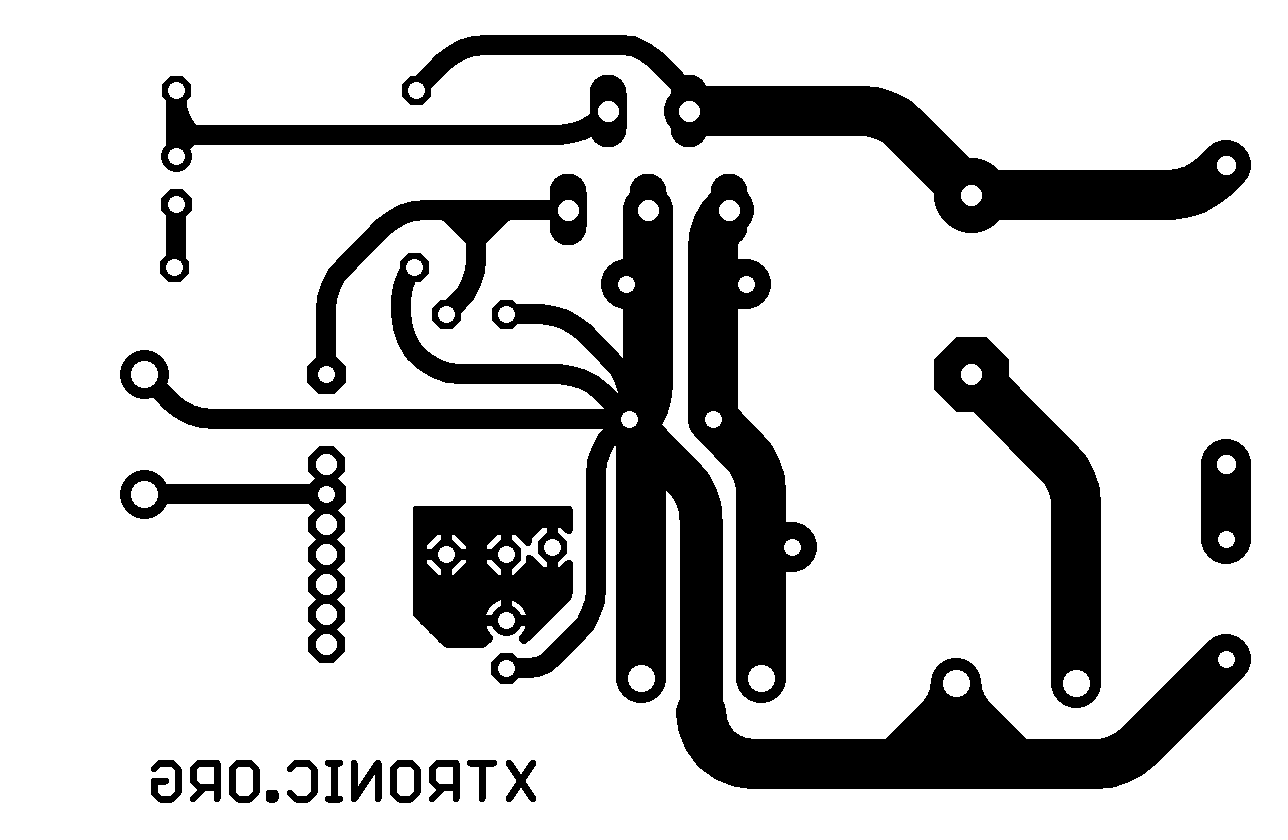 Layout component side pcb tda2040 click to zoom
Silk screen pcb click 200%  zoom

List of components for the amplifier
Parts
Value
Capacitors

C1
1µF/35v – Electrolytic Capacitor
C2,C4
22µF/35v – Electrolytic Capacitor
C3
220µF/35V – Electrolytic Capacitor
C5
100nF polyester film Capacitor
C6
220nF polyester film Capacitor
C7
2200µF/35v Electrolytic Capacitor
Semiconductors

IC1
TDA2040
Connectors

IN
Audio input
VCC
Power supply
OUT
Audio output
Resistors 1/4 Watts 5%
R1, R2, R3, R5
22k Red, Red, Orange, Gold
R4
680 blue, Gray, Brown, Gold
R6
4.7 Yellow, violet, Gold, Gold
Miscellaneous
Power supply, heat-sink to the IC, printed circuit board, solder, Box, Speakers 30 watts 4 Ohms
Circuit power supply for use with tda2002 –  15 volts / 1.2 amps

Schematic circuit of power supply for tda
Suggested pci for mounting the power for the circuit with tda – 1:1 scale
Layout component side
List of components for assembly of the power supply
Parts
Value
Capacitors

C1
100nF 100 nF Polyester Capacitor – 100n, 0.1, .1, or 104
C2
4700µF 35V Polyester Capacitor
C3 ,C4, C5, C6
10nF Polyester or ceramic capacitor – 10n, 0,01, or 103
Semiconductors

D1, D2, D3, D4
1N4004
LED1
Led 5mm any color
Resistor 1/4 watt 5%
R1
10k Brown, Black, Orange, Gold
Miscellaneous
T1
Transformer – Primary according to the network and secondary 12-volt / 2.5 amps
AC
Connector for transformer
VCC
Output Connector VCC
Other
Wire, Plugs, box, pcb, etc.
For more information on the integrated circuit TDA2040 datasheet!
Download the PDF for the pcb for  circuit and power amplifier