Download (Epcos) TDK Ferrite Magnetic Design Tool. The MDT software enables the calculation of application-related parameters for EPCOS ferrite cores and materials. It grants users access to digitized material data and corresponding graphical representations. The software's user manual provides a comprehensive explanation of all its functions. The tool is available as both an online version, compatible with browsers such as Google Chrome, Mozilla Firefox, Internet Explorer, and Opera, and as a downloadable version designed for Windows 7 and 10. However, it should be noted that the online version does not offer the same extensive range of functions as the desktop version.
The ferrite material list was updated according to the EPCOS Data Book 2017 "Ferrites and Accessories". The new high-frequency material PC200 was added.
Among the features of the current MDT (Epcos) TDK Ferrite Magnetic Design Tool version are:
Simulations based on user-defined core parameters
Database expanded to include Steinmetz coefficients for power losses
Display of complex permeability and impedance as a function of frequency
Display of impedance Z as the relation between core impedance and frequency
Transmittable power adjusted for skin and proximity effects (from the wire calculation menu)
Calculation of the distortion factor (third harmonic) under specific circuit conditions at various temperatures
Calculation of core loss as a function of signal form
Specification of wire thickness as per American Wire Gauge (AWG)
To support design-ins you will find the data sheets for all materials by applications under www.tdk-electronics.tdk.com/ferrite_materials.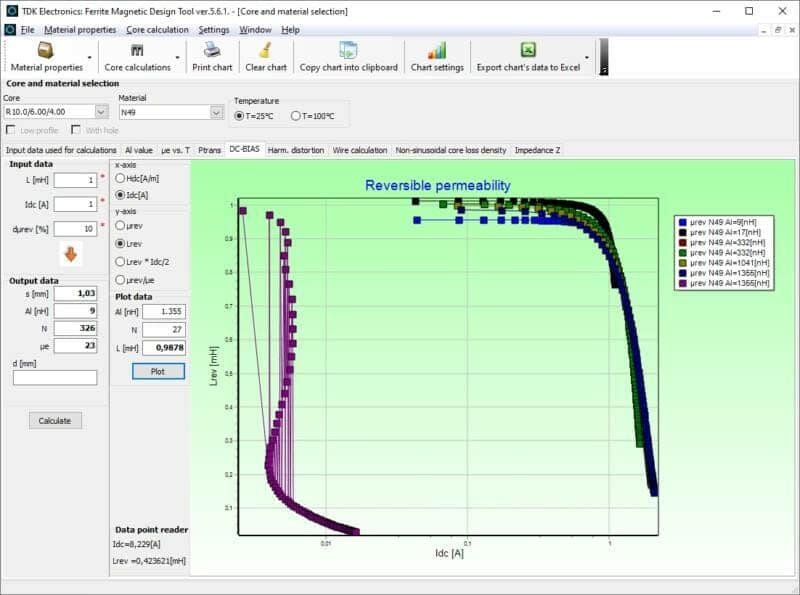 We are sorry that this post was not useful for you!
Let us improve this post!
Tell us how we can improve this post?
Xtronic.org blog author. Electronics technician for the technical school of Brasilia - Brazil. Interested in electronics, circuits and technology in general.