complete stereo amplifier circuit including printed circuit board to power of 2 X 15 Watts. Using minimum of components in the integrated circuit TDa7297 ST Microelectronics. This IC presents in its interior two bridge amplifiers, making it useful for use where a stereo amplifier need easy assembly. may operate with voltages 6-18 volts and has protection against excess temperature.
About the TDA7297 – 15+15w dual bridge amplifier
Wide supply voltage range (6v -18v)
minimum external components
no svr capacitor
no bootstrap
no boucherot cells
internally fixed gain
stand-by & mute functions
short circuit protection
thermal overload protection
Schematic of the amplifier using TDA7297 or TDA7297SA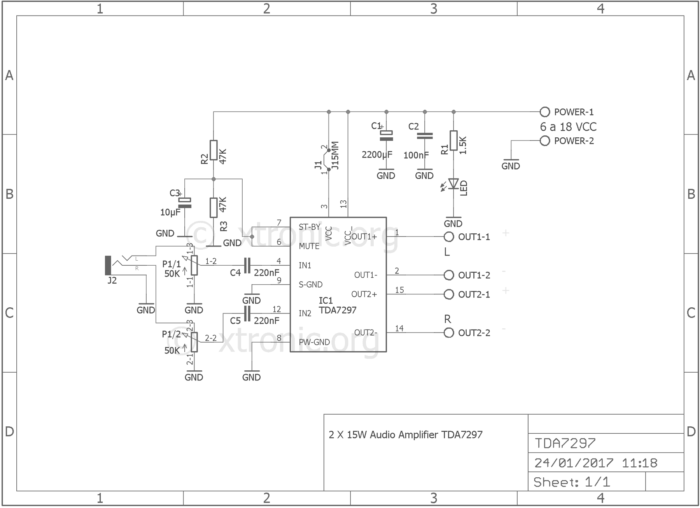 Suggested printed circuit board (PCB) for the power audio amplifier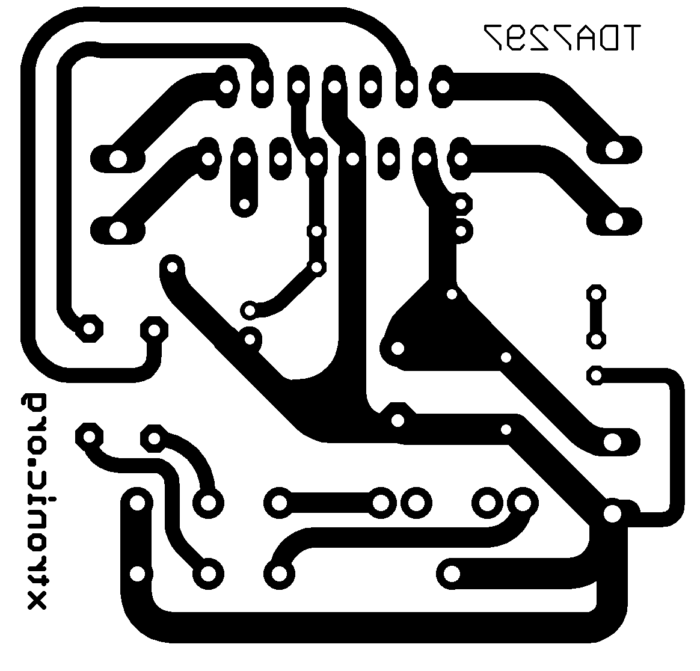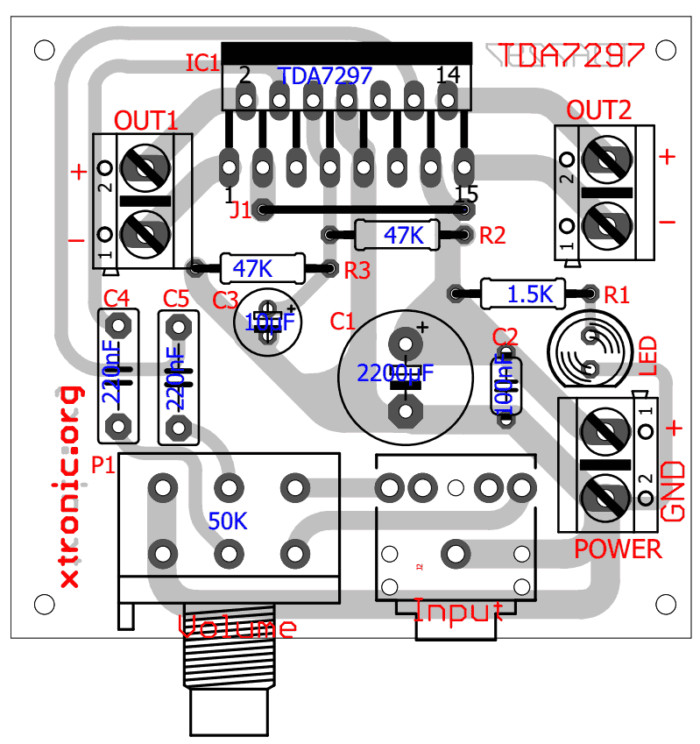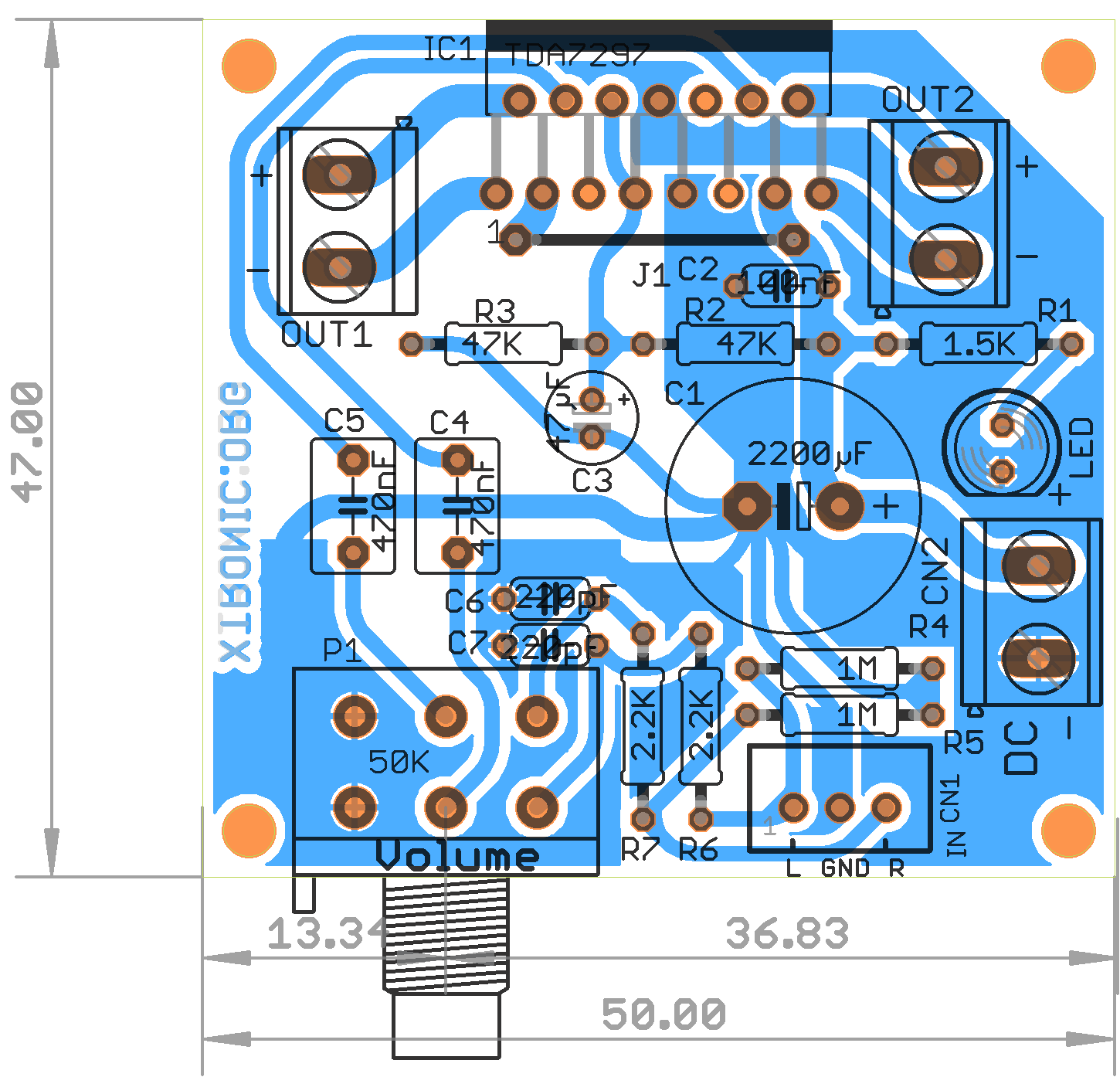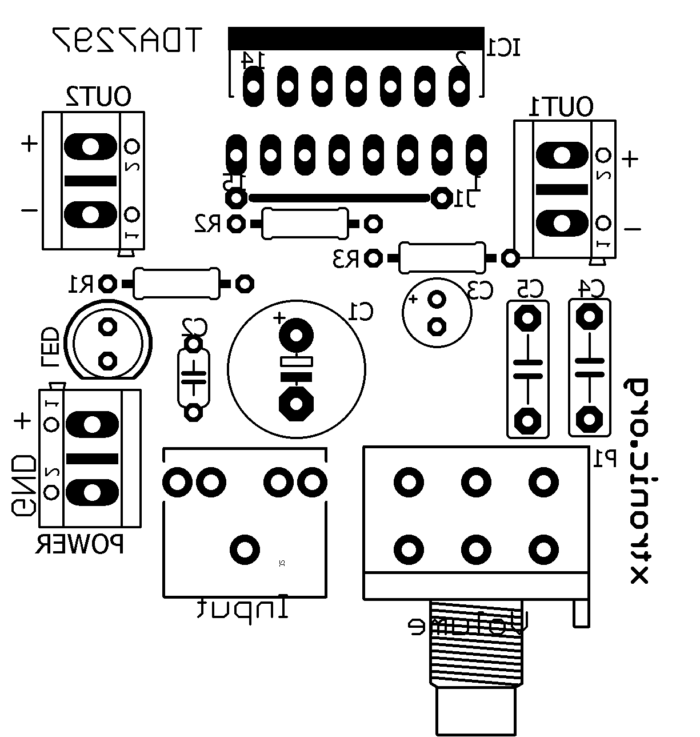 List of material for mounting the circuit TDA7297
Part
Value
Resistor's 1/4 W 5%
R1
1.5K – Brown, Green, Red, Gold
R2, R3
47K – Yellow, Violet, Orange, Gold
Capacitor's
C1
2200µF/25V – Polarized Electrolytic Capacitor
C2
100nF/250V – capacitor polyester
C3
10µF/25V – Polarized Electrolytic Capacitor
C4
220nF /100V – capacitor polyester
C5
220nF /100V – capacitor polyester
Semiconductors
IC1
TDA7297 or TDA7297SA – Integrated circuit audio amplifier stereo bridge – ST Microelectronics
LED
Red LED
Miscellaneous
VCC
Connector power supply
IN
Audio input connector
OUT1
Audio output 1 connector
OUT2
Audio output2  connector
J1
J12MM -Piece of wire 12mm
P1
50K – Double logarithmic potentiometer
Wire, PCB, Box, power supply 9-18 Volts / 2 Amps *, etc..
Download the PDF files to mount the amplifier – Datasheet Tda7297 the PCB, PCB layout components, PCB Silk and Schematic.
Download PDF Mirror
Buy diy kit TDA7297 amplifier in Aliexpress