The LT1083 series of positive adjustable regulators are  designed to provide 7.5A  with higher efficiency than currently available devices. All internal circuitry is designed to operate down to 1V input-to-output differential and the dropout voltage is fully specifi ed as a function of load current. Dropout is guaranteed at a maximum of 1.5V  at maximum output current, decreasing at lower load currents. On-chip trimming adjusts the reference voltage to 1%. Current limit is also trimmed, minimizing the stress on both the regulator and power source circuitry under overload conditions. The LT1083 device are pin compatible  with older 3-terminal regulators. A 10μF output capacitor is required on these new devices. However, this is included in most regulator designs. Unlike PNP regulators, where up to 10% of the output cur-rent is wasted as quiescent current, the LT1083 quiescent current flows into the load, increasing efficiency.
FEATURES
Terminal Adjustable
Output Current of 3A, 5A or 7.5A
Operates Down to 1V Dropout
Guaranteed Dropout Voltage at Multiple Current Levels
Line Regulation: 0.015%
Load Regulation: 0.1%
100% Thermal Limit Functional Test
Fixed Versions Available
Available in 3-Lead Plastic TO-220, TO-3P and DD Packages
 APPLICATIONS
High Effi ciency Linear Regulators
Post Regulators for Switching Supplies
Constant Current Regulators
Battery Chargers
APPLICATIONS INFORMATION
The LT1083 family of 3-terminal adjustable regulators is easy to use and has all the protection features that are  expected in high performance voltage regulators. They are short-circuit protected, and have safe area protection as well as thermal shutdown to turn off the regulator should the junction temperature exceed about 165°C.
These regulators are pin compatible with older 3-terminal adjustable devices, offer lower dropout voltage and more precise reference tolerance. Further, the reference stability with temperature is improved over older types of regulators. The only circuit difference between using the LT1083 family and older regulators is that this new family requires an output capacitor for stability.
Stability
The circuit design used in the LT1083 family requires the use of an output capacitor as part of the device frequency compensation. For all operating conditions, the addition of a 150μF aluminium electrolytic or a 22μF solid tantalum pin instantaneously shorted to ground, can damage occur.
A crowbar circuit at the input of the LT1083 can generate those kinds of currents, and a diode from output to input is then recommended. Normal power supply cycling or even plugging and unplugging in the system will not generate current large enough to do any damage.
The adjustment pin can be driven on a transient basis ± 25V, with respect to the output without any device degradation. Of course, as with any IC regulator, exceeding the maximum input to output voltage differential causes the internal transistors to break down and none of the protection circuitry is functional.
Although the devices maximum operating voltage is limited, (20V for a 3V, 5V device, and 25V for a 12V device) the devices are guaranteed to withstand transient input voltages up to 30V. For input voltages greater than the maximum operating input voltage some degradation of specifications will occur. For input/output voltage differentials greater than 15V, a minimum external load of 5mA is required to maintain regulation.
Schematic of regulated power supply with adjustable CI LT 1083 by Linear Technologies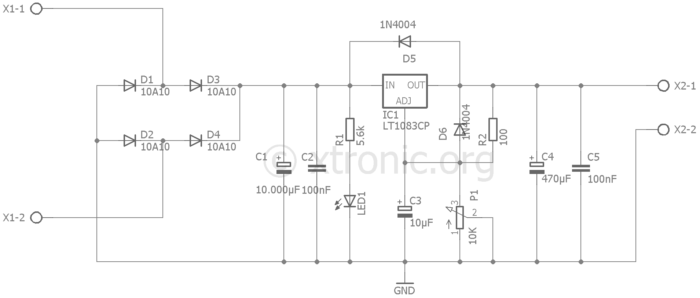 Suggested PCB mounting adjustable power supply LT1083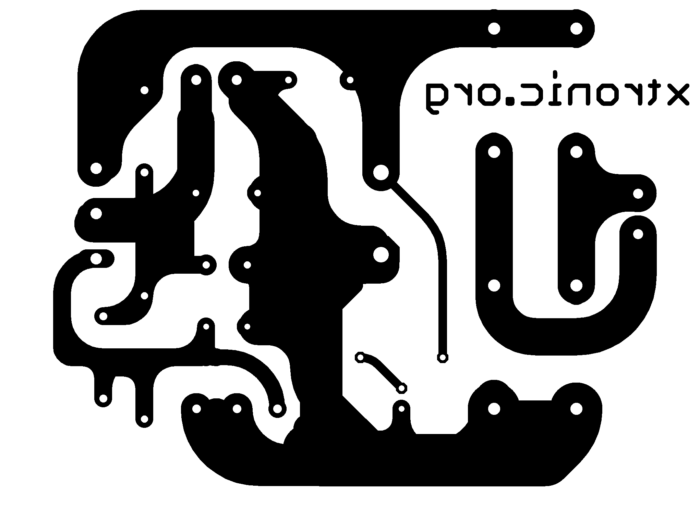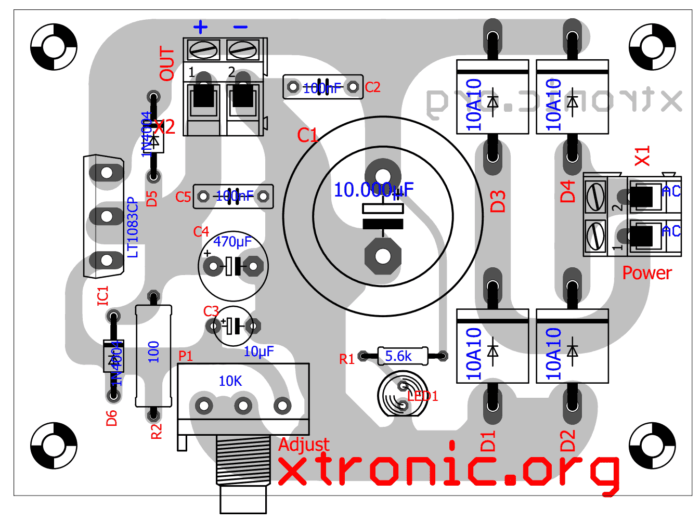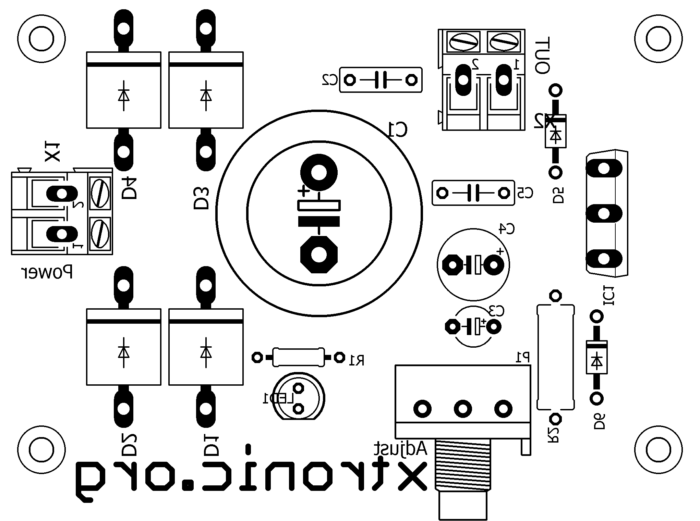 List of material to mount the adjustable regulated power supply using integrated circuit LT1083
Component
Value
Resistor
R1
5.6k
R2
100 Ohms 1W
Capacitors
C1
10.000µF /50V
C2, C5
100nF
C3
10µF/50V
C4
470µF/50V
Semiconductors
D1, D2, D3, D4
10A10
D5, D6
1N4004
IC1
LT1083CP
LED1
Red Led 3mm
Connectors
X1
Connector Terminal block 2 pins – Connecting the transformer
X2
Connector Terminal block 2 pins – Output
P
4.7K – Single potentiometer
Miscellaneous
Transformer
21V 8A – Or according to your need for voltage and current
Printed circuit board, solder, wires, heatsink for IC, Box, etc
Download PDF Files: Suggested printed circuit board (Copper side, side components, Silk Screen) Schematic and Datasheet.
Buy LT1083 chip and LT1083 Diy kit in Aliexpress