Download Cetina Front Panel Designer CAD, Cetina CAD is a solution for designing front panels for Electronic devices and equipments. The software is free and it has remarkable features such as different types of shape tools for Engraving, Milling and making Cavities in Aluminum or Plastic Plates. Working with Cetina CAD is very easy and it generates a professional design in less time. It generates G-Code for our special CNC machines and works in 2 Dimension mode. It also imports HPGL files and converts it in to G-Code. Cetina CAD software has the ability of calculating the cost and sending the file to Front Panel Expert secure server. The designed front panel will process shortly and will be ship back to the designer.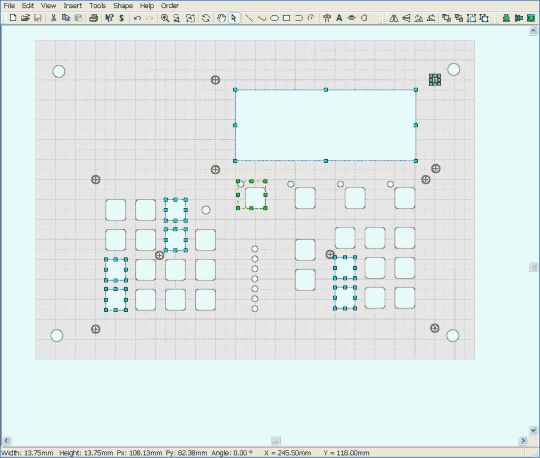 The professional yet easy to use front panel designer with remarkable features, is one of a kind between front panel designing software.
Other than being a free software Cetina CAD is offering professional features such as fast computing in mathematical routines and has almost all the useful features a designer needs to do the job faster and easier. Our software developers have a lot of experiences in low level language system programming and we are proud to introduce Cetina CAD as one of the best solutions in front panel designing industry.
As a promise to our clients, we are working hard to develop this software to another professional level of 3D drawing in close future.
Cetina CAD Specifications:
Simple Menus.
Advanced Graphical Interface.
Comprehensive Help.
Very simple to design an Oject.
Editable Library Objects.
Cost Calculation and Online Ordering.
File Transfer direct to our Secure Server.
System Requirements:
Windows 7, Vista or Windows XP
Pentium 4 Processor or Higher
512 MB RAM
10 MB Hard Drive Free Memory .
Good Graphic for OpenGL
High Color (32bit) Graphic Card
Mouse and Keyboard
Download Cetina Front Panel Designer
We are sorry that this post was not useful for you!
Let us improve this post!
Tell us how we can improve this post?