This is an audio amplifier with 2 LM386 integrated circuits. Basically it deals with the use of 2 amplifiers as in another article posted at a time ago. But this time it includes printed circuit board for stereo version, in addition to power supply. The circuit operates with power supply or batteries of 6 to 12 volts. The best performance will be when using a 12V power supply and 8 Ohms speakers.
The operation of the circuit is simple and based on the LM386, responsible for the amplification, the stereo audio signal is coupled by the capacitors C5 and C11, the stereo potentiometer P1, is used to adjust the volume.
The components attached to pins 1 and 8 control the gain:
No component: Gain = 20.
10μF Capacitor (Jumper on R2 and R4): Gain = 200
10μF Capacitor and 1.5K Resistor: Gain = 50
The output is coupled via 470μF Capacitor, if you want to use with headphones add resistors from 100 to 220 Ohms 1Watt in series with the output.
Schematic of the audio amplifier LM 386 stereo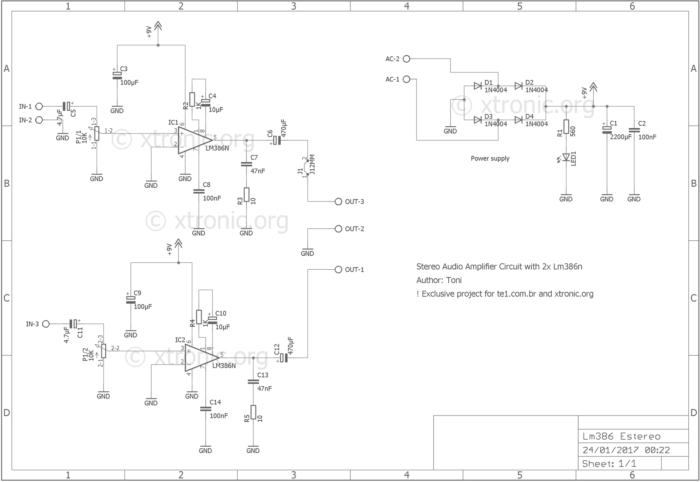 Suggested Printed Circuit Board for mounting the circuit stereo amplifier with LM386N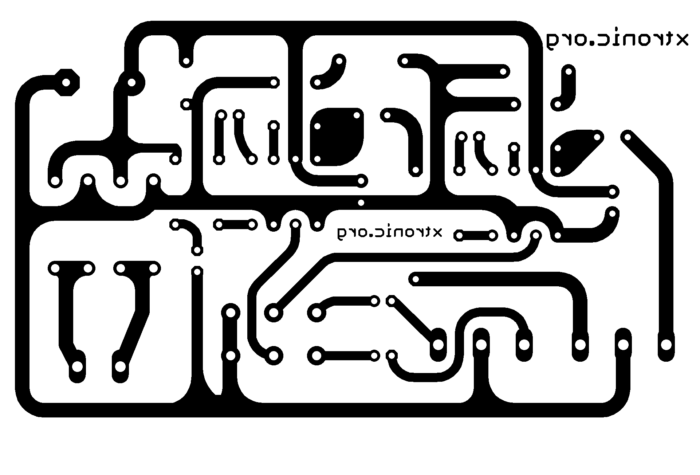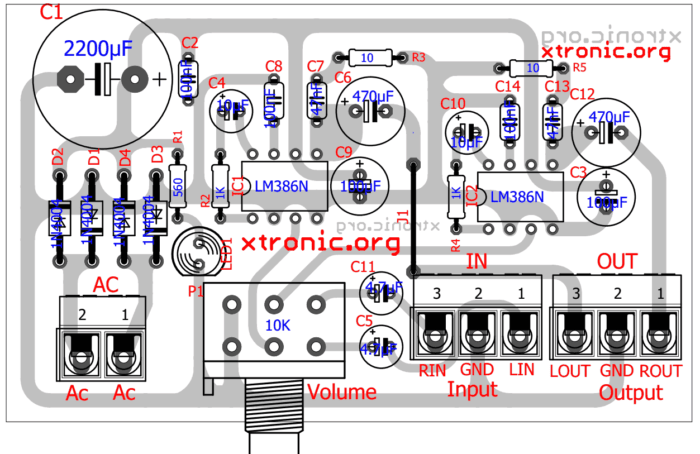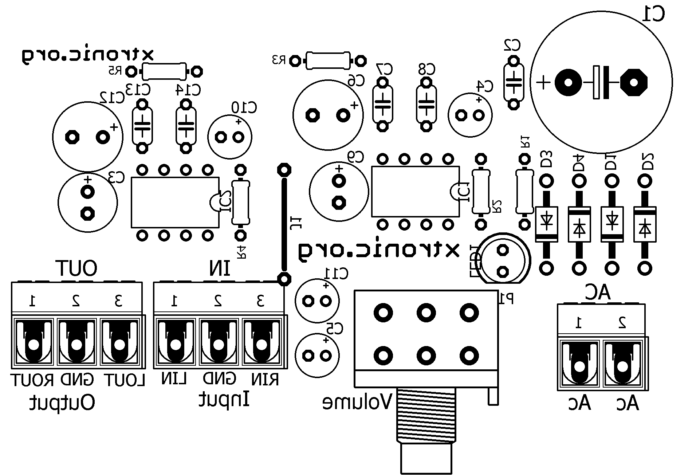 Part list for mounting a stereo amplifier with LM386
Part
Value
Resistors 1/4 Watt 5%
R1
560 – Green, Blue, Brown, Gold
R2, R4
1K – Brown, Black, Red, Gold
R3, R5
10 – Brown, Black, Black, Gold
P1
10K – Double Potentiometer
Capacitors
C1
2200µF/ 16V – Electrolytic Capacitor
C2, C8, C14
100nF – (100n, 104, .1, 0.1) – Ceramic or Polyester Capacitor
C3, C9
100µF/ 16V – Electrolytic Capacitor
C4, C10
10µF/16V – Electrolytic Capacitor
C5, C11
4.7µF/16V – Electrolytic Capacitor
C6, C12
470µF/16V – Electrolytic Capacitor
C7, C13
47nF – (473, 47n, 0.047) – Ceramic or Polyester Capacitor
Semiconductors
D1, D2, D3, D4
1N4004 Or equivalent – Semiconductor diode
IC1, IC2
LM386N – IC
LED1
Red led 5mm
Connectors
AC
Connector for transformer
IN
Audio input connector
OUT
Audio Output Connector
Miscellaneous
J1
15mm piece of wire
TR1
6 to 9 Volts / 500mA Transformer
Welding, Wire, PCB, Box, Knob Potentiometer, etc.
Download the PDF files to mount stereo amplifier with LM386: LM386 Datasheet, PCB Layout, Layout of components and Silk Screen
Download PDF Mirror