Stereo headphone amplifier circuit with MAX4410 IC, based on the Maxim Integrated MAX4410 Evaluation Kit, which is designed to be used in portable equipment on boards with little space ..
The MAX4410 stereo headphone driver is designed for portable equipment where board space is at a premium. The MAX4410 uses a unique DirectDrive architecture to produce a ground-referenced output from a single supply, eliminating the need for large DC-blocking capacitors, saving cost, board space, and component height.
The MAX4410 delivers up to 80mW per channel into a 16Ω load and has low 0.003% THD+N. A high power-supply rejection ratio (90dB at 1kHz) allows this device to operate from noisy digital supplies without an additional linear regulator. The MAX4410 includes ±8kV ESD protection on the headphone outputs. Comprehensive click-and-pop circuitry suppresses audible clicks and pops on startup and shutdown. Independent left/right, low-power shutdown controls make it possible to optimize power savings in mixed mode, mono/stereo applications.
The MAX4410 operates from a single 1.8V to 3.6V supply, consumes only 7mA of supply current, has short-circuit and thermal overload protection, and is specified over the extended -40°C to +85°C temperature range. The MAX4410 is available in a tiny (2mm x 2mm x 0.6mm), 16-bump chip-scale package (UCSP™) and a 14-pin TSSOP package.
Key Features
No Bulky DC-Blocking Capacitors Required
Ground-Referenced Outputs Eliminate DC-Bias Voltages on Headphone Ground Pin
No Degradation of Low-Frequency Response Due to Output Capacitors
80mW Per Channel into 16Ω
Low 0.003% THD + N
High PSRR (90dB at 1kHz)
Integrated Click-and-Pop Suppression
1.8V to 3.6V Single-Supply Operation
Low Quiescent Current
Independent Left/Right, Low-Power Shutdown Controls
Short-Circuit and Thermal Overload Protection
±8kV ESD-Protected Amplifier Outputs
Available in Space-Saving Packages

16-Bump UCSP (2mm x 2mm x 0.6mm)
14-Pin TSSOP
About our headphone amplifier circuit with IC Maxim MAX4410
Basic application of the document MAX4410 Evaluation Kit, added 3.3V voltage regulator circuit for the PCB to operate with voltages up to 9V or even a portable version for 4.1V batteries.
Schematic of the amplifier with MAX4410 (stereo headphone drive)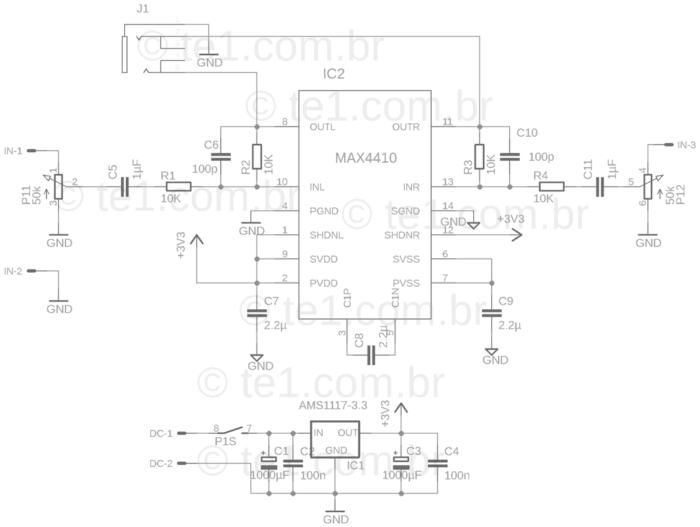 Printed Circuit Board Suggestion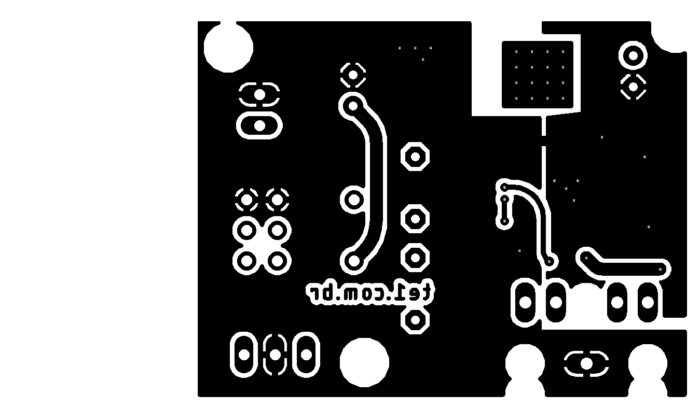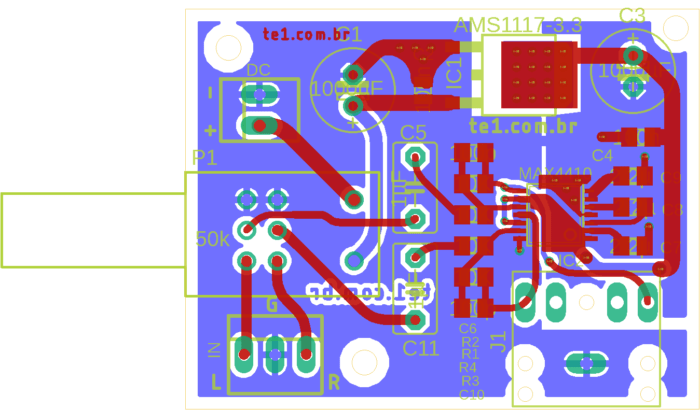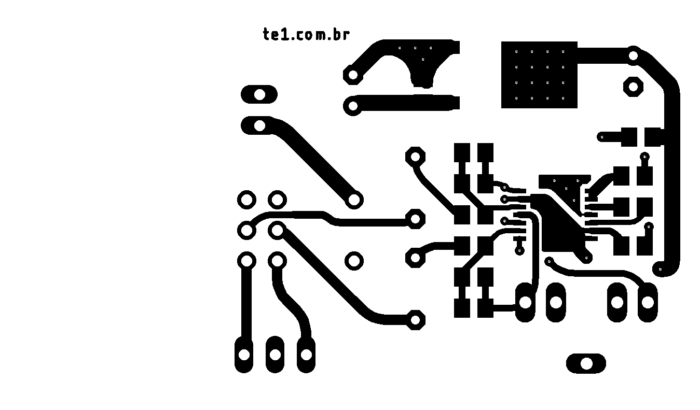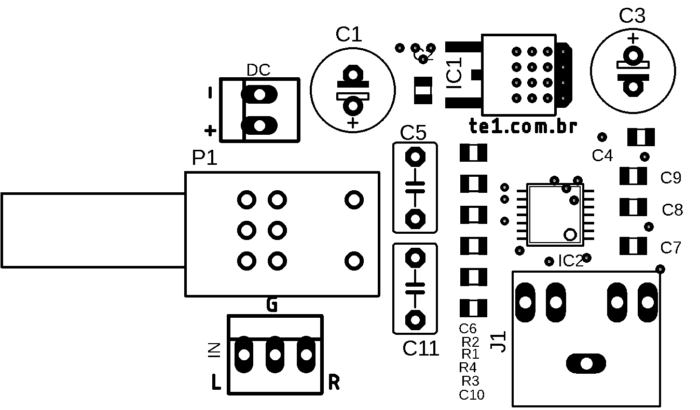 Part list the stereo headphone drive with IC MAX4410
Parts
Value
description
quantity
Resistors
R1, R2, R3, R4
10K (103)
SMD Resistor 0805
4
Capacitor's
C1, C3
1000µF/10V
Electrolytic Capacitor
2
C2, C4
100n
SMD Capacitor 0805
2
C5, C11
1µF
Polyester Capacitor
2
C6, C10
100p
SMD Capacitor 0805
2
C7, C8, C9
2.2µ
SMD  Capacitor 0805
3
Semiconductors
IC1
AMS1117-3.3
Voltage Regulator 3.3V
1
IC2
MAX4410
IC TSSOP14 stereo headphone drive Maxim integrated
1
Several
DC
Power supply
Connector 2,54 mm 2 pins
IN
Audio input
Connector 2,54 mm 3 pins
J1
Audio output
Connector P2 3,5mm
P1
50k (503)
Mini pot with switch
1
Welding, Wire, Pci, Box, power supply, etc.
Download the PDF and Gerber files from the boards for this assembly