TDA2030 amplifier circuit board diagram. TDA2030 is a circuit integrated monolithic in Pentawat® package, to be used as class audio amplifier AB. Typically, he supplies up to 14 Watts of potency (d=0.5%) @ 14V/4 Ω. The guaranteed potency is 12W in a load of 4 Ω and 8 watts in a load of 8 Ω. Integrated him/it bills with circuits of component protection.
Description of the circuit
Audio amplifier with having integrated tda2030, using source of simple feeding, for potency of 14 watts with a source of 15 volts. That source should be with transformer, rectifications and good filter capacitors, there is no need of regulated source. For protection of the circuit, to use a fuse of 3 amperes in the line of +b of the amplifier. Use a heat-sink of heat in the circuit, integrated tda2030.
See the datasheet of the tda 2030 to know which heat-sink to use. That integrated it is cheaply and easy to find at the market. For a version in bridge for until 28 watts@14v and version using symmetrical source sees the datasheet of the tda2030. That circuit can be fed by car batteries by good time without needing to recharge her. The tda2030 is usually found as amplifier of stage of potency of systems of home theater, it is in those that promise 1000 Watts of potency.
For now, a tda2030 supplies 14 watts, then 5 tda2030 supplies less than 100 watts RMS. But that is a good idea, to use the tda2030 as amplifier of potency of system's surround, for the subwoofer the ideal is an assembly in bridge for more potency.
Circuit diagram audio amplifier with tda2030a
Suggestion of printed circuit board for assembly of the amplifier with tda 2030.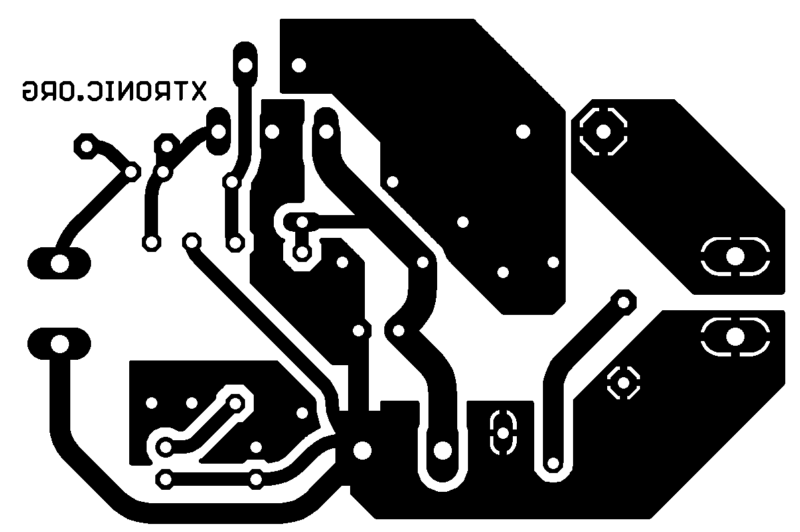 Part list to assemble or amplifier
Last update: 07/28/2021 17:06
Parts
Value
Description
Quantity
Capacitors*
C1,
1uF/16V
Electrolytic Capacitor
1
C1A
1uF/100V (Optional)
Polyester Capacitor
1
C2
4.7µF
Electrolytic Capacitor
1
C3
100nF
Ceramic Capacitor
1
C4
22uF
Electrolytic Capacitor
1
C5
100uF
Electrolytic Capacitor
1
C6
220nF
Polyester Capacitor
1
C7
2200µF
Electrolytic Capacitor
1
Miscellaneous
CN1
IN
Terminal block 2 pin 5.08 mm
1
CN2
DC
Terminal block 2 pin 5.08 mm
1
CN3
OUT
Terminal block 2 pin 5.08 mm
1
Semiconductors
D1, D2
1n4004
Diode
2
IC1
TDA2030 or TDA2030A
Audio amplifier IC
1
Resistors
R1
150k
Brown, Green, Yellow, Gold
1
R2
4.7k
Yellow, Violet, Red, Gold
1
R3, RA, RB
100k
Brown, Black, Yellow, Gold
3
R4
1 ohm 1W
Brown, black, gold, gold
1
Solda, Fios, Pci, Caixa, fonte
*The working voltage of the capacitors is related to the maximum DC voltage of the supply:
Up to 12V—16V capacitors
Up to 18V—25V Capacitors
Up to 26V—35V Capacitors
Above 26V—50V Capacitors
Updated files, including Gerber and new PCB layout
Download the PDF files for assembling the amplifier
Mirror
PDF Datasheet for ci TDA2030 tda230
Buy kits TDA2030 in AliExpress with free Shipping in the Worldwide.

We are sorry that this post was not useful for you!
Let us improve this post!
Tell us how we can improve this post?