TDA2822 amplifier circuit diagram stereo 2x 1W, TDA2822 is an ideal Op amp for low output applications. It is a good choice as a preamplifier in stereo high power amplifier circuits. It has two inputs and two outputs which can deliver 250 milli watts output power. The amplifier circuit within the IC is well set for noise free operation. Outputs can be directly coupled to the speakers through the decoupling capacitors.
Schematic amplifier dual (stereo) – TDA2822
Suggested PCB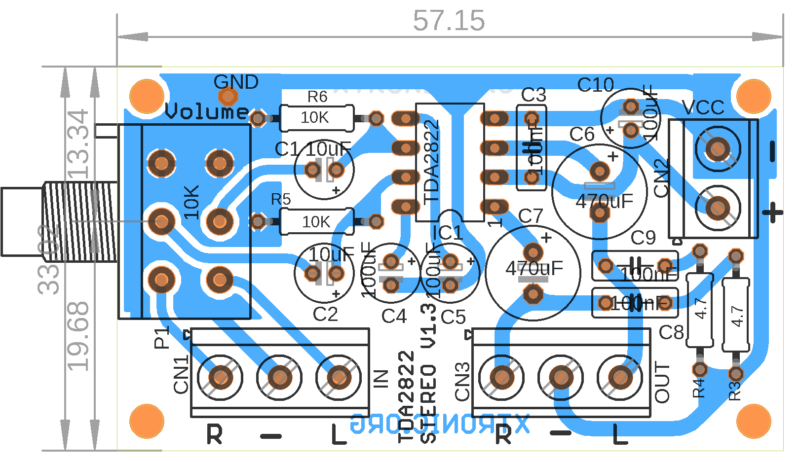 Characteristics for tda2822
supply voltage down to 1.8v
low crossover distortion
low quiescent current
bridge or stereo configuration
The TDA2822M is a monolithic integrated circuit in 8 lead Minidip package. It is intended for use as dual audio power amplifier in portable  radios.
BOM to assemble the amplifier.
Last Update: 07/08/2021 14:41
Part
Value
Description
Quantity
Resistors 1/4W 5%
P1
10K
10K Potentiometer (103)
1
R3, R4
4.7
Yellow, violet, red, gold.
2
R3, R4
10K
Brown, black, orange, gold.
2
Capacitors
C1, C2
10uF/16V
Electrolytic Capacitor
2
C3, C8, C9
100nF
Ceramic Capacitor or Film
3
C4, C5, C10
100uF/16V
Electrolytic Capacitor
3
C6, C7
470uF/16V
Electrolytic Capacitor
2
Semiconductors
IC1
TDA2822
Audio amplified integrated circuit.
1
Miscellaneous
CN1
IN (Audio Input)
Terminal block 3 pin 5.08 mm
1
CN2
VCC (Power Supply)
Terminal block 2 pin 5.08 mm
1
CN3
OUT (Audio Output)
Terminal block 3 pin 5.08 mm
1
Solder, Wires, PCB, Case, Power Supply, etc.
The power supply for this circuit can be from batteries or a power supply of 3 to 12 volts for 1 ampere, if necessary put a heat sink on the integrated circuit, for details see the IC datasheet.
Download the files of this assembly, including the printed circuit board in PDF, PNG, Postscript and Gerber.
TDA2822 datasheet em PDFST Micro electronics
Datasheet em PDF UNISONIC TECHNOLOGIES
This IC is evaluatable as TDA2822m, tda2822l, tda2822d and tda2822a and TDA2822H
Buy kits TDA2822 in AliExpress with free Shipping in the Worldwide.
We are sorry that this post was not useful for you!
Let us improve this post!
Tell us how we can improve this post?