TDA2030 2.1 amplifier board circuit diagram subwoofer. This circuit is a complete application is 2.1 amp, two satellite speakers for TDA2030 and one for the subwoofer, the 2.1 system, widely used in commercial applications as an amplifier for computers, which may give an increased in its audio system with a stereo amplifier + bass amplifier (subwoofer).
The circuit is divided into 3 parts: power supply, stereo amplifier and bass amplifier (subwoofer).
Power supply circuit for the power circuit and the pre + low pass filter for the sub
The power supply is of the symmetrical type, it uses a transformer according to the network in your region, 110 or 220 with double secondary of 12 volts. I recommend using a fuse and a switch before the transformer. B1 is a rectifier bridge of at least 100 volts/4 A, an example that can be used is the GBU606, the filtering is up to the capacitors C8, C9, C10 and C11, the electrolytic can have values starting at 4,700µF. To power the bass filter op amp, three-terminal LM7812 and LM7912 integrated circuits are used.
Satellite speaker amplifier circuit
The right and left channels are exactly the same, let's see how the left channel works: CNIN is the audio input connector, coupled by C2 to the volume adjustment potentiometer, it is a double potentiometer, adjusting both channels simultaneously. R3/C4 and R16/C29 help to improve the treble signal. Capacitors C6 and C31 couple the signal to IC2 and IC6 (TDA2030), after amplification the audio output is pin 4 of the integrated TDA2030. Resistors R7/R9 and R20/R22 are responsible for feedback, so by changing the value of R7 and R20 we can increase or decrease the amplifier gain. R11/C12, R24/C35 and R23/C34 form the compensation network for the speakers.
Subwoofer pre and amplifier circuit
The signal to the subwoofer comes from the left and right channels through resistors R1 and R2 being coupled by capacitor C5, is applied to amplifier 1 of the operational NE5532 IC1A, which forms a preamplifier to boost the signal by 6 times. Determined by resistors R6/R8.
The components R10, R12, C18, C17 and IC1B form a low-pass filter that in this case is calculated for 200Hz. After leaving IC1B the low frequency audio goes through potentiometer P1 that makes the volume adjustment, then forwarded to IC3 that is the bass channel amplifier, the working principle is the same as the satellite amplifiers.
TDA2030 2.1 amplifier board circuit diagram subwoofer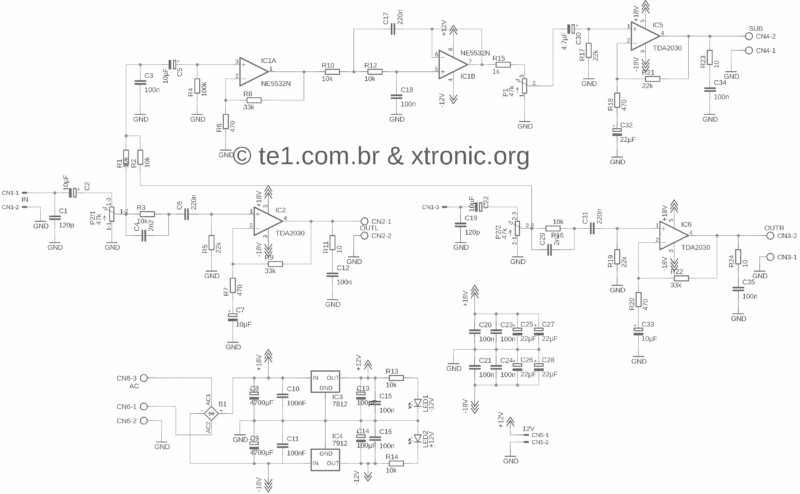 PCB for TDA2030 2.1 amplifier board circuit diagram subwoofer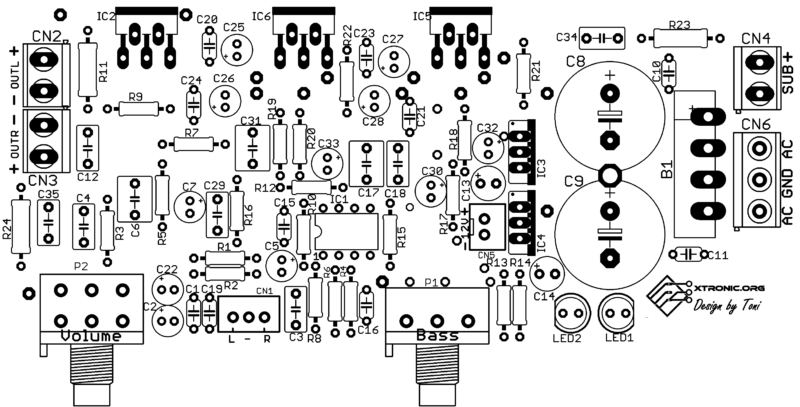 This is our suggested PCB for mounting the circuit, an observation is that as I did not design it for double-sided at first, we have to use some jumpers in the circuit. The circuit works even if mounted on a single-sided board. This time to try a more compact board the components are closer to each other, as well as a different assembly for several resistors in the circuit. The board is very detailed with downloadable PDFs of the board + schematic + component side and silk screen, all in high resolution.
In board version 2021 with some improvements and available Gerber file for making the PCB. However, the board is still fully compatible with home production board, but now with better component positioning and smaller dimensions. Some additional filter components have been added.
Also, included is a 12V power connector to be used for powering MP3 and Bluetooth modules.
For power supply a 12 + 12V/4A transformer can be used if used with TDA2030 or up to 17 + 17V if mounted with TDA2050 or LM1875. In this case, the working voltage of the electrolytic capacitors should be 35V. However, even with TDA2050 or LM1875, you can use a 12 + 12 V transformer.
Table of components to be used
IC
TDA2030
TDA2050
TDA2040
LM1875
Maximum power supply
12+12 VAC
18+18 VAC
14+14 VAC
18+18 VAC
Maximum power*
3×18 W
3X 35W
3X 30W
3x 30W
Working voltage of the capacitors
25V
35V
35V
35V
It can also be combined the chips as 2X TDA2030 + 1X TDA2050 with 12+12 VAC trafo and maximum power up to 18+18+24 Watts.
Nothing prevents using any of the Cis as TDA2050 with lower voltage trafo.
The recommended heat sink is 100 x 33 x 45 or larger
It is important to insulate the body of the TDA2030 ICs from the heatsink using insulation between the metal parts. Including sleeves for the screws.
Appearance of some components used in this assembly TDA2030, NE5532, 7812, 7912
Can be used TDA2030, TDA2030A, TDA2030H, TDA2040, TDA2040V, TDA2050, TDA2050A, TDA2050L, TDA2050G, TDA2050V, Lm1875, LM1875T or equivalent
NE5532, SA5532, SE5532, NE5532A, SE5532A or equivalent
BOM to assemble amplifier TDA2030 2.1
tda2030 2.1 subwoofer circuit diagram
Last update: 08/17/2021 19:15
Part
Value
Description
Quantity
Capacitors – Electrolytic 25 to 35V – Polyester and Ceramic 50 to 100V
C1, C19
120p (121)
Ceramic Capacitor
2
C2, C5, C7, C22, C33
10µF/25V
Electrolytic Capacitor
5
C3, C12, C18, C34, C35
100n/63V (104, 0.1u, .1, 100n)
Polyester Capacitor
5
C4, C29
2n2/63V (222, 0.0022, 2200p)
Polyester Capacitor
2
C6, C17, C31
220n a 1µF/63V (224, 0.22u, .22, 220n)
Polyester Capacitor
3
C8, C9
4700µF/25V
Electrolytic Capacitor
2
C10, C11, C15, C16, C20, C21, C23, C24,
100nF ((104, 0.1u, .1, 100n)
Ceramic Capacitor
8
C13, C14
100µF/25V
Electrolytic Capacitor
2
C25, C26, C27, C28, C32
22µF/25V
Electrolytic Capacitor
5
C30
4.7µF/25V
Electrolytic Capacitor
1
Semiconductors
B1
KBL608 or equivalent
Bridge rectifier
1
IC1
NE5532 or equivalent
DIP8 dual operational amplifier
1
IC2, IC5, IC6
TDA2030A or equivalent
Audio amplifier integrated circuit
3
IC3
LM7812
3-pin voltage regulator, 12V positive
1
IC4
LM7912
3-pin voltage regulator, negative -12V
1
LED1, LED2
LED 5 mm
Red LED
2
Resistors 1/4W 5%
R1, R2, R3, R10, R12, R13, R14, R16
10k
Brown, Black, Orange, Gold
8
R4
100k
Brown, Black, Yellow, Gold
1
R5, R17, R19, R21
22k
Red, Red, Orange, Gold
4
R6, R7, R18, R20
470
Yellow, Violet, Brown, Gold
4
R8, R9, R22
33k
Orange, Orange, Orange, Gold
3
R11, R23, R24
10 / 0,5W
Brown, Black, Red, Gold
3
R15
1k
Brown, Black, Red, Gold
1
Miscellaneous
CN1
OUTL (Left channel output)
Male KK connector 2.54 mm 3-way
1
CN2
OUTL (Left channel output)
Terminal block 2 pin 5.08 mm
1
CN3
OUTR (Right channel output)
Terminal block 2 pin 5.08 mm
1
CN4
SUB (Subwoofer output)
Terminal block 2 pin 5.08 mm
1
CN5
12V (12V DC output)
Male KK connector 2.54 mm 3-way
1
CN6
AC (Power Transformer)
Terminal block 3 pin 5.08 mm
1
P1
47K (473)
Double potentiometer
1
P2
47k (473)
Potentiometer
1
Solder, Wires, Pci, Box, transformer, knob, screws, heat sink, insulation mica, etc
*C3 is not required.
For mounting on the board or in front of the cabinet(in this case use shielded wires for connection)
You can buy PCBs or kits to assemble in sites like eBay and AliExpress, in these last ones with interesting prices… but for those who like to assemble according to their taste, hands on!
That's it guys, this is the first version, in the next one we'll try other more powerful integrated ones and also a bridge assembly for the bass amplifier, please leave your opinion, if there is something wrong or to be improved, let us know, that's it for now… now it's 1:20 a.m.!
Just a reminder that if you want the library for TDA2030 2.1 and Ne5532 for Eagle, these components are in the Linear library.
Download PCB files in PDF: TDA2030 datasheet, NE5532 datasheet, Schematic of the amplifier 2.1, PCI board, component side, Silk Screen. Just remember that whoever Libraries (library) for the TDA2030 and NE5532 for the Eagle, these components are linear in the library.
Buy diy kit TDa2030 2.1 in Aliexpress
We are sorry that this post was not useful for you!
Let us improve this post!
Tell us how we can improve this post?
Xtronic.org blog author. Electronics technician for the technical school of Brasilia - Brazil. Interested in electronics, circuits and technology in general.