By Toni on Aug 09, 2010 with Comments 3 Viewed 3,501 views times
gResistor is a Gnome resistor color code calculator.
To allow for identification, resistors are usually marked with colored bands. Often refered to as color codes, these markings are indicative of their resistance, tolerance and temperature coefficient. gResistor helps you translate resistor color codes into a readable value. All you have to do is watch the colors on the resistor and then enter them in the program. As you enter colours you'll see that the resistor value is changing accordingly.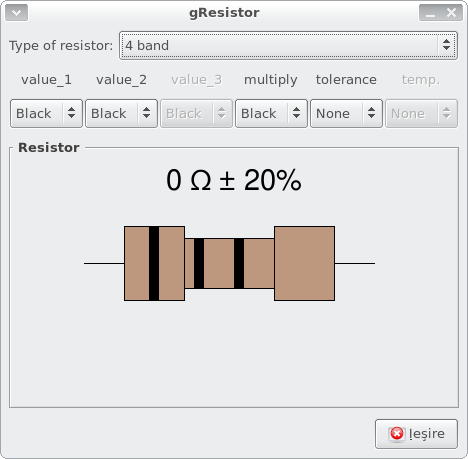 Users electronic tags:
gresistor, download blue images, Resistance color code value and watt, resistor calculator color code free download, transistor color code calculator
Filed Under: Calculator • Download
About the Author: Xtronic.org blog author. Electronics technician for the technical school of Brasilia - Brazil. Interested in electronics, circuits and technology in general.
Comments (3)
Leave a Reply "Download gResistor – Gnome resistor color code calculator"