The TDA7294 can be used in stereo mode (2 x 80Watts) or mono bridge mode (1x 180 Watts), to do this configuration simply set up 4 jumpers. To facilitate assembly, the circuit has a power supply included. The power supply is simple symmetrical type with a bridge rectifier, capacitors being two large electrolytic, from 4.700μF to 12.000μF/50v. The recommended transformer is 12-0-12 at 25-0-25 / 5A, depending on the quality of the transformer recommended if a minimum of 6 Amperes current. Of course with a smaller transformer the power will be smaller as well as the current.
The TDA7294 is a monolithic integrated circuit in Multiwatt15 package, intended for use as audio class AB amplifier in Hi-Fi field applications (Home Stereo, self-powered loudspeakers, Topclass TV). Thanks to the wide voltage range and to the high out current capability, it is able to supply the highest power into both 4Ω and 8Ω loads even in presence of poor supply regulation, with high Supply Voltage Rejection. The built-in muting function with become on delay simplifies the remote operation avoiding switching on-off noises.
Another application suggestion is the BRIDGE configuration, where two TDA7294 are used,  In this application, the value of the load must not be lower than 8 Ohm for dissipation and current
capability reasons. A suitable field of application includes HI-FI/TV subwoofers realizations.
In stereo, all jumpers must be open and the speakers are plugged into connectors Lout and Rout and audio input connectors in the Lin and Rin. In the amplifier in bridge mode all jumpers should be closed and the audio output Lout is (+ the speaker) Rout (- the speaker) and audio input will be Lin, Rin will be connected to ground via JB2.
The main advantages offered by this solution are:
– High-power performances with limited supply voltage level.
– Considerably high output power even with high load values (i.e., 16 Ohm).
With Rl= 8 Ohm, Vs = ±25V the maximum output power obtainable is 150 W, while with Rl=16Ohm, Vs = ±35V the maximum Pout is 170 W.
In bridge mode the manufacturer does not recommend using with speakers with impedance less than 8 Ohms.
In this circuit the mute / stand-by switch has been removed, but if you prefer, you can add it, the assembly is simple with a suggested circuit board.
The integrated circuit body should be insulated from the heatsink using mica or plastic thermal pad to insulate the screw.

Circuit of dynamic amplifier using tda7294–180 Watts bridge or stereo 2 x 80 Watts – Click to enlarge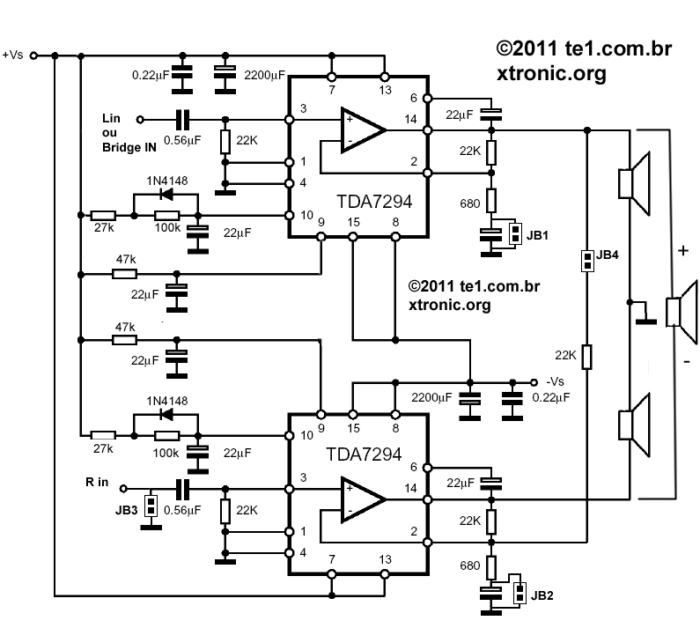 In bridge mode short circuit the jumper JB1, JB2, JB3, JB4.
Suggested printed circuit board (PCB) for circuit dynamic audio amplifier with tda7294
BOM to assemble the power amplifier.
Last Update: 12/08/2021 23:14
Part
Value
Description
Quantity
Resistors 1/4W
R1, R3, R7, R9, R13
22k
Red, red, orange, gold
5
R2, R8
680
Blue, gray, brown, gold
2
R4
100k
Brown, black, yellow, gold
1
R5
27k
Red, violet, orange, gold
1
R6
47k
Yellow, violet, orange, gold
1
R14, R15
4.7K
Yellow, violet, red, gold
2
Capacitors
C2, C4
4.700µF a 10.000µF/50V
Electrolytic capacitor
2
C5, C7, C8, C9
22µ/50V
Electrolytic capacitor
4
C6, C12
560nF a 3.3µF
Polyester Capacitor
2
C10, C11, C16, C17
100nF/50V
Ceramic Capacitor
4
C13, C18
22µF/50V
Electrolytic capacitor
2
C19, C20
220p/50v
Ceramic Capacitor
2
Semiconductors
D1
1n4148
Diode
1
B1
GBJ3510 or equivalent
Bridge rectifier
1
LED1, LED2
LED 5 mm
Led color of your choice
2
CI1, CI2
TDA7294
Audio amplifier integrated circuit
2
Miscellaneous
CN1
IN1 (Input 1 or bridged input)
Jst Xh 2-Way Connector 2.54 mm pitch or equivalent
1
CN2
IN2 (Input 2)
Jst Xh 2-Way Connector 2.54 mm pitch or equivalent
1
CN3
OUT1 (Output 1)
Terminal block 2 pin 5.08 mm
1
CN4
OUT2 (Output 2)
Terminal block 2 pin 5.08 mm
1
CN5
POWER (Power Supply)
Terminal block 3 pin 5.08 mm
1
BTL1, BTL2, BTL3, BTL4
Jumper for bridged operation
Terminal block 2 pin 5.08 mm
4
Solder, Wires, PCB, Box, Source
Download the circuit board files (PCB) for TDA7294 Amplifier – PCB in PDF, PNG, POSTCRIPT and GERBER.
The PCB layout has been updated, now with compact size, single-sided PCB mounting is still possible. The Gerber has been added, so you can order your boards.
Another version of the amplifier with tda7294 mono
Buy DIY kits TDA7294 in AliExpress with free Shipping in the Worldwide.
We are sorry that this post was not useful for you!
Let us improve this post!
Tell us how we can improve this post?