Complete circuit power amplifier 2.1, 3 channel with TDa7377, include in the layout, power supply, bass filter as well as the full PCB layout. Project amplifier ideal for various applications. includes in the board, Power Supply, Preamplifier, bass filter, volume and tone control.
About designing amplifier with TDA7377 Stereo 2.1 + bass channel
Circuit to use the possibilities of the TDA7377 which has 4 outputs, 2 simple for satellites and the other two bridged for the subwoofer.
The circuit has balance control (P2), if not just need to connect the jumpers. Adjust overall volume (p1), tone control and volume adjustment of the subwoofer.
We have a pre amp (IC1) and bass filter (IC3) with bandwidth of 20-150Hz.
The circuit already has power supply by simply connecting a transformer (AC) simple 9-12 Volts / 3 Amps or more, can also be connected a source (DC) 12-18 volts / 3 amps. Can be a source of computer or notebook, battery car , etc.
This circuit is not the same as traditional circuit which adopts RC to control Bass/Treble via potentiometers, its Bass circuit adopts Low Pass Filter,doesn't need additional Treble potentiometer, so it is quite suitable to be used for the power supply refitting for automobile, motorcycle, electric vehicles and multimedia audios, it can help a lot for promoting your sound quality.
Schematic of the audio power amplifier with TDA7377 2.1 – Stereo + Subwoofer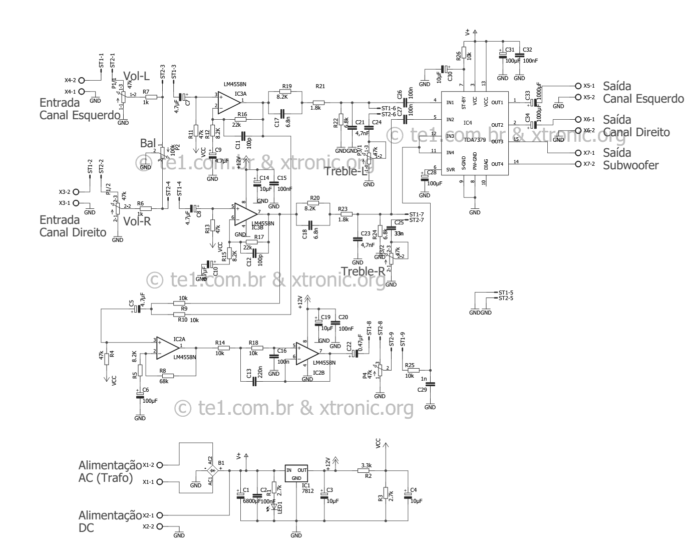 Suggested PCB design for audio amplifier 2.1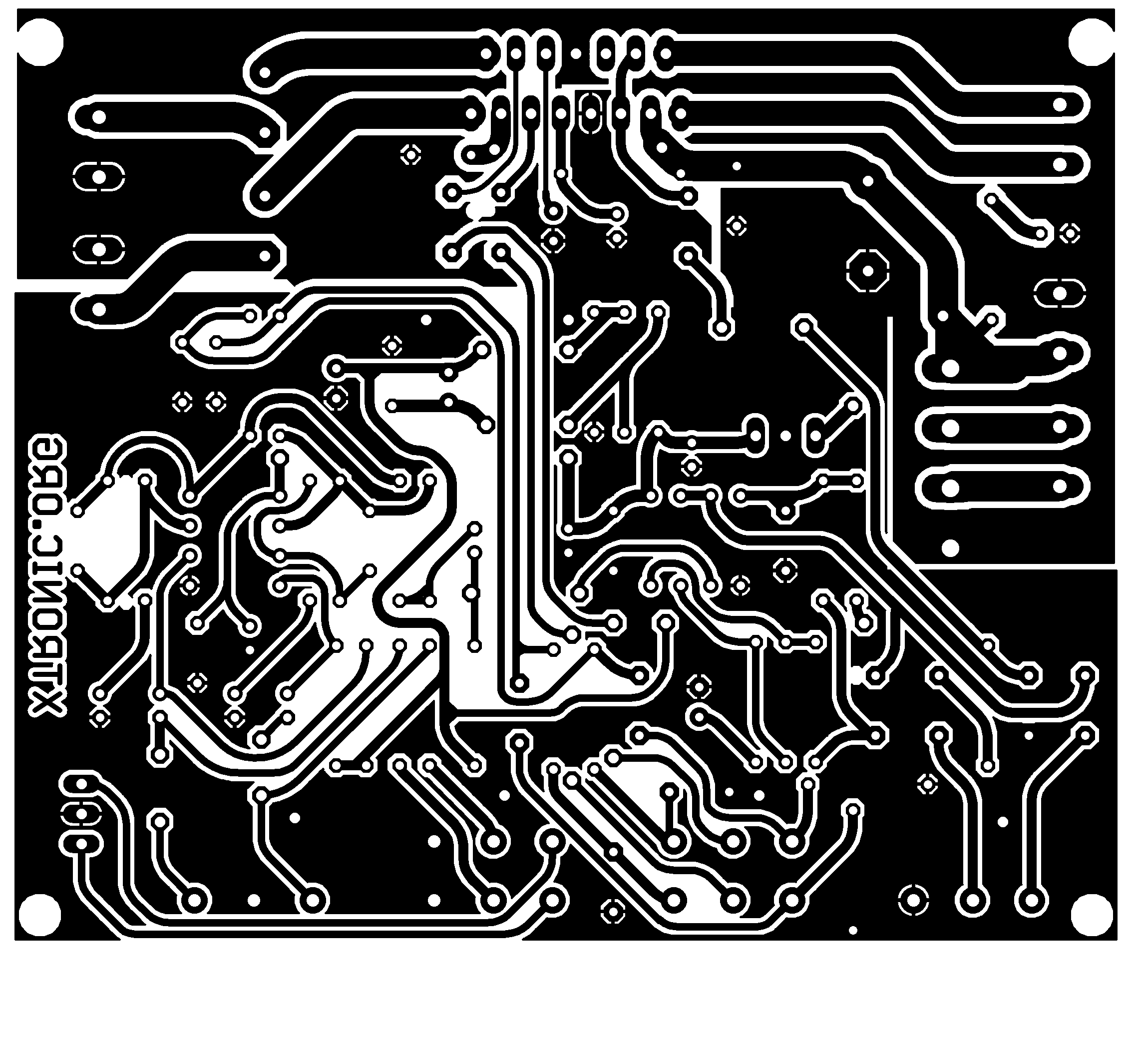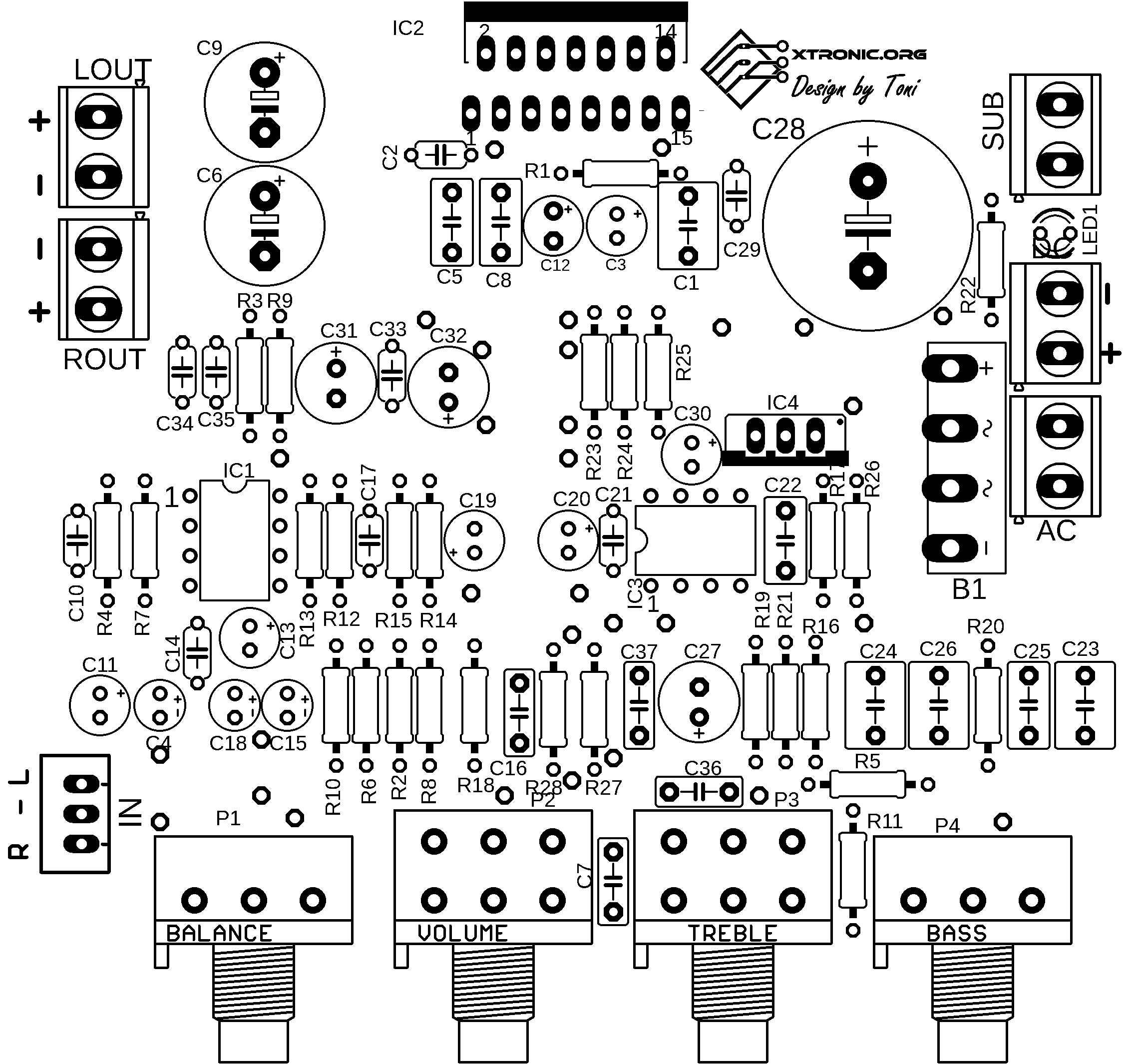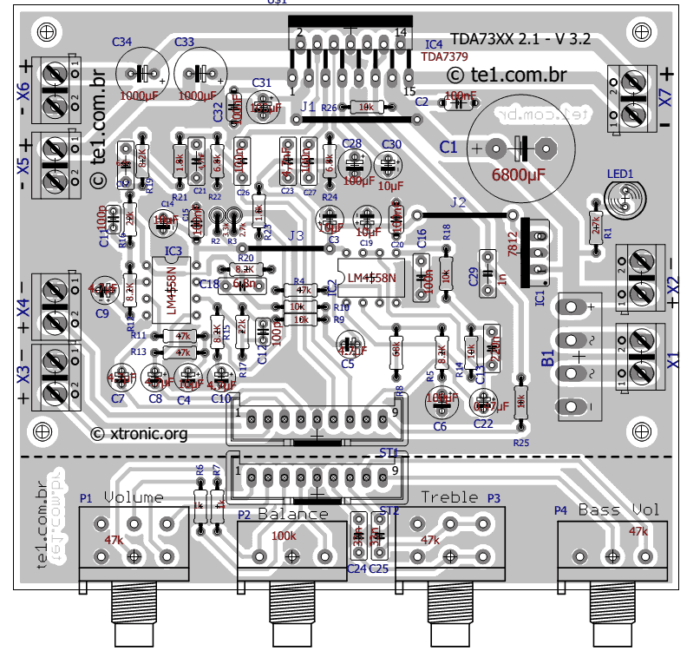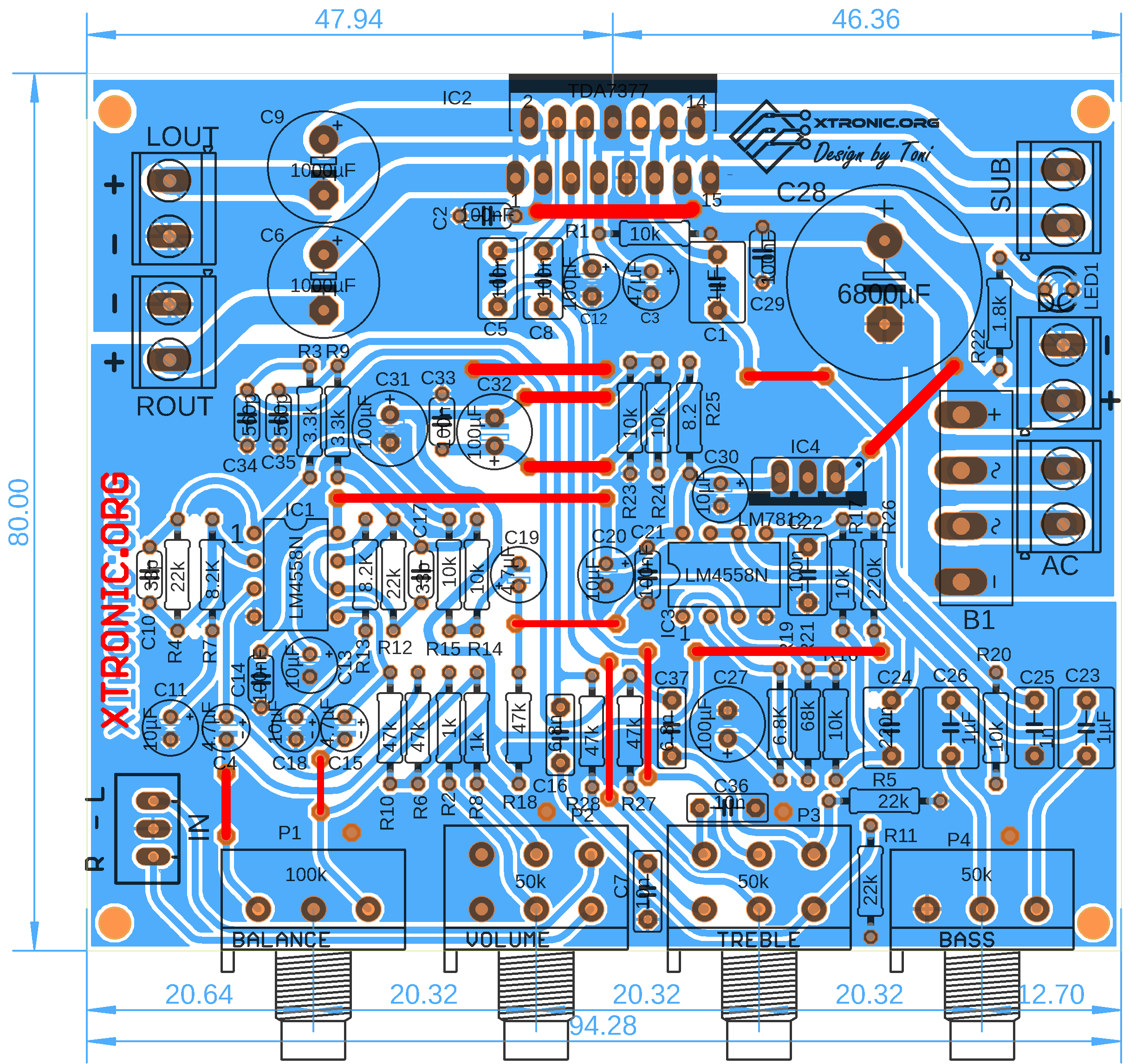 Part
Value
Resistor 1/4W 5%
R1, R3,
2.7K – Red, Violet, Red, Gold
R2
3.3K – Orange, Orange, Red, Gold
R4, R11, R13
47K – Yellow, Violet, Orange, Gold
R5, R12, R15, R19, R20
8.2K – Gray, Red, Red, Gold
R6, R7
1k – Brown, Black, Red, Gold
R8
68K – Blue, Gray, Orange, Gold
R9, R10, R14, R18, R23, R26
10K – Brown, Black, Orange, Gold
R16, R17
22K – Red, Red, Orange, Gold
R21, R23
1.8K – Brown, Gray, Red, Gold
R22, R24
6.8K – Blue, Gray, Red, Gold
P1, P3
47K or 50K – Dual Potentiometer logarithmic
P2
100k – Dual Potentiometer
P4
47K or 50K – Single Potentiometer logarithmic
Capacitors electrolytic

C1
6800µF
C3, C4,C14, C19, C30
10µF
C5, C7, C8, C9, C10
4.7µF
C6, C28, C31
100µF
C22
0.47µF or Polyester
C33, C34
1000µF
Capacitors Polyester and ceramic

C2, C15, C20, C32
100nF (104) – Ceramic or Polyester
C11, C12
100pF (101) – Ceramic
C13
220nF (224) – Polyester
C16, C26, C27
100nF (104) – Polyester
C17, C18
6.8nF (682) – Polyester
C21, C23
4,7nF (472) – Polyester
C24, C25
33nF (333) – Polyester
C29
1nF (102) – Polyester
Semiconductors
B1
Bridge Rectifier FBU8K or equivalent 200V / 2A
IC1
7812 – positive voltage regulator 12 Volts
IC2, IC3
LM4558N or equivalent – Dual Operational Amplifier
IC4
TDA7379 or equivalent – see table in the text
LED1
Red Led 5mm
Connectors
ST1, ST2
Connector 9-way (Optional)
X1
Connector Terminal Block 2 pin – AC
X2
Connector Terminal Block 2 pin – DC Power
X3
Connector Terminal Block 2 pin – Input right channel
X4
Connector Terminal Block 2 pin – Input Left Channel
X5
Connector Terminal Block 2 pin – Audio output Left channel
X6
Connector Terminal Block 2 pin – Audio output Right channel
X7
Connector Terminal Block 2 pin – Audio Output Subwoofer
Miscellaneous
Welding, Wire, Box to accommodate circuit, printed circuit board heatsink to the TDA7377, Transformer, Sockets for Op Amp, etc..
Download the PDF files for this assembly – Board, Copper Side, components Side, pads, Silk, Schematic, TDA7377, Datasheet.
Download PDF     Mirror
Buy kits or Assembled board for this circuit TDA7377 2.1 direct from china to worldwide via Aliexpress.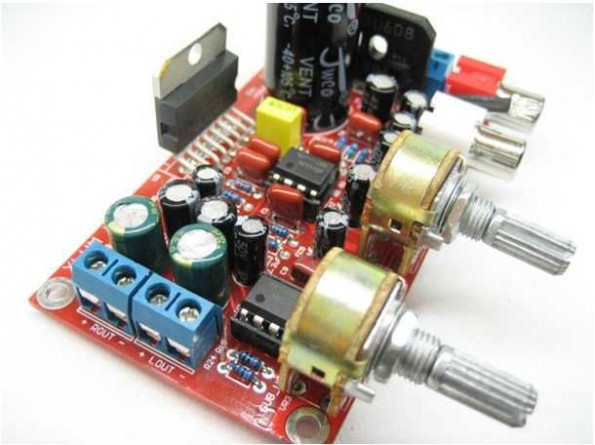 Error in previous version: