Project of circuit potent audio amplifier with TDA7294
Super Amplifier with tda7294 of the St microeletronics, is possible to get potency of up to 100W in an only chip, for an unit stereo to use two same to that. That circuit is based on the datasheet of the ready
to work with sources of strong signs, in case it is necessary it uses a pre-amplifier in the form of an opamp. That circuit type with integrated circuit is ideal for systems of involving sound. Because he is quite compact could use an independent amplifier for each one of the high speakers. In that way it can be to share the source dimensioned it is clear to support all the connected amplifiers. Oh you can remove a wave with that neighbor that bought a " home theater " of 1000W PMPO, and fear in saying that is an enormous potency, when in reality it will verify the real potency of the equipment it doesn't arrive nor to 10W RMS for channel. It already imagined a system of high active speakers with 80W. If it will pass for the marketing department, that where defines the potency PMPO, your system would give… it lets me to see… comparing with the example oh of top… about " 3000 W PMPO ". Game that you have been doing with the potency of the equipments. For you to do your sound system will only need the sign source. Because the amplifier can be perfectly that of here. The necessary subwoofer of a little more of potency then in the datasheet you will find an assembly example in bridge to increase the potency. Below we have the schematic, the Printed circuit board and details of the assembly.
Good luck.
schematic – diagram circuit for assembly power amplifier tda7294
Suggestion of Printed circuit board (PCB) amplifier TDA7294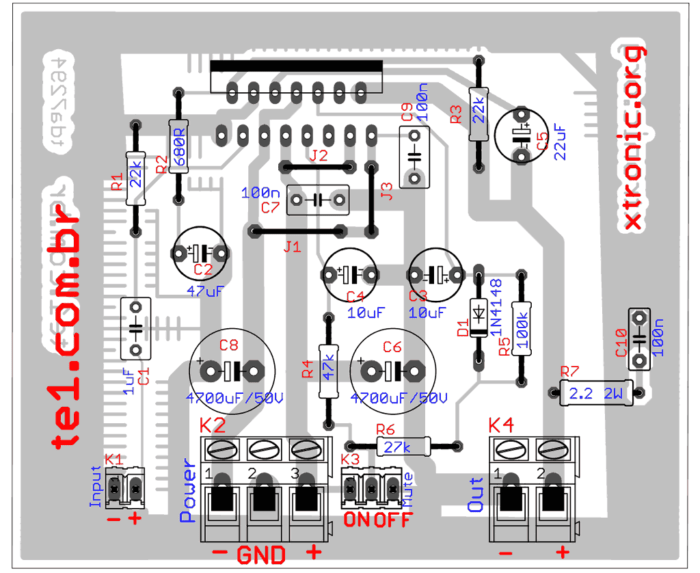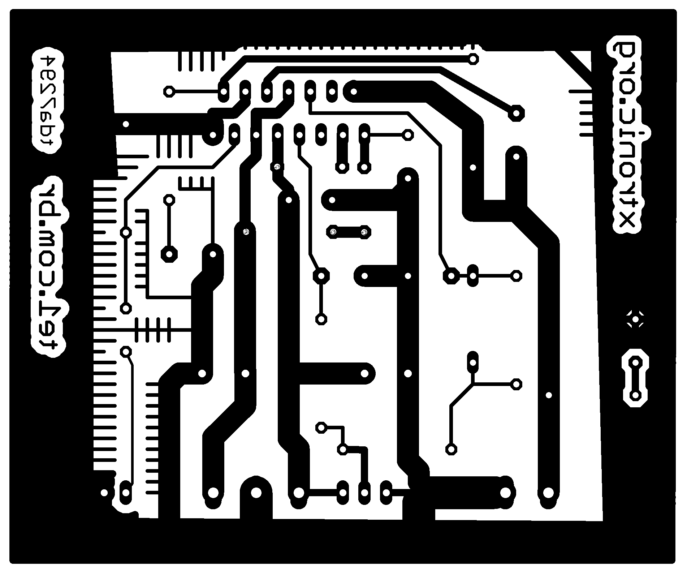 lists of components: for tda7294
C1 1µF
C2 47µF/50V
C3 10µF/50V
C4 10µF/50V
C5 22µF/50V
C6 4700µF/50V
C7 100N/65V
C8 4700µF/50V
C9 100N /100V
C10 100nF
D1 1N4148
R1 22K
R2 680 Ohms
R3 22K
R4 22K
R5 30K
R6 10K
R7 2.2 Ohms 2 Watts
K2 Mute Switch
K1 signal input (Line In)
U1 TDA7294
X2 Connector AK300/3
X3 Connector AK300/2
several: Printed circuit board, power supply +35 -35V / 6A, etc.
Download PDF files for TDA7294
Download PDF Mirror 1 Mirror 2
Buy TDA7294 Diy kits in Aliexpress with worldwide free shipping