TDA2030A amplifier circuit TIP41 TIP42 driver. TDA2030 + power transistors (TIP41, TIP42 or 2SC1061, 2SA761 or BD908, BD907 or BD911, BD912 or TIP31, TIP32) for an audio amplifier up to 40 Watts. Simple installation, no special settings requires and uses few components.
The amplifier is based on the TDA2030 IC and two transistors that can be (TIP41, TIP42 or 2SC1061, 2SA761 or BD908, BD907 or BD911, BD912 or TIP31, TIP32), finally you can use several pairs of transistors! The circuit around the TDA2030 is traditional to about 14-20 watts using simple supplies!
The audio output amplified by leaving the pin TDA2030 4, the transistors are active when a large flow of charge through R1 and R8 pass transistors to drive and ensure high-power output.
Requires a power supply of 18 to 35V/1.5A simple. If you want a version 2 Stereo, lots of these!
Using a monolithic audio amplifier with not properly regulated power supply. In any case of work, you should supply a supply voltage lower than the maximum value set by the IC breakdown voltage.
The TDA2030A is a monolithic IC in a Pentawatt package intended for use as a class AB low frequency amplifier.
With ,VS max = 44V, it is particularly suitable for more reliable applications without regulated power supply and for 35 W driver circuits using low-cost complementary pairs.
The TDA2030A provides high output current and has very low harmonic and crossover distortion.
The device incorporates a short-circuit protection system comprising an arrangement to automatically limit the power dissipated to maintain the operating point of the output transistors within their safe operating range.
A conventional thermal shutdown system is also included.It is essential to consider all working conditions, in particular mains fluctuations and variations in supply voltage with and without load. The TDA2030A IC (Vsmax=44V) is particularly suitable for replacing standard IC power amplifiers (with Vsmax=36V) for more reliable applications.
A regulated supply is not normally used for the power output stages because their sizing must take into account the power to deliver at signal peaks. They are not only a small percentage of the total music signal, with consequent large circuit oversizing.
Even if with a regulated supply, it is possible to get higher output power (Vs is constant in all working conditions), the additional cost and power dissipation does not usually justify its use. Using unregulated supplies, there are fewer designated restrictions. In fact, when signal peaks are present, the capacitor filter acts as a flywheel that supplies the necessary power.
Under average conditions, the continuous power supplied is less. The music power to continuous power ratio is higher concerning a regulated power supply, with space savings and cost reduction.
Performance of this amplifier, technical data TDA2030A
Schematic 40 Watts TDA2030A amplifier circuit TIP41 TIP42 driver
Printed circuit board for mounting TDA2030A amplifier circuit TIP41 TIP42 driver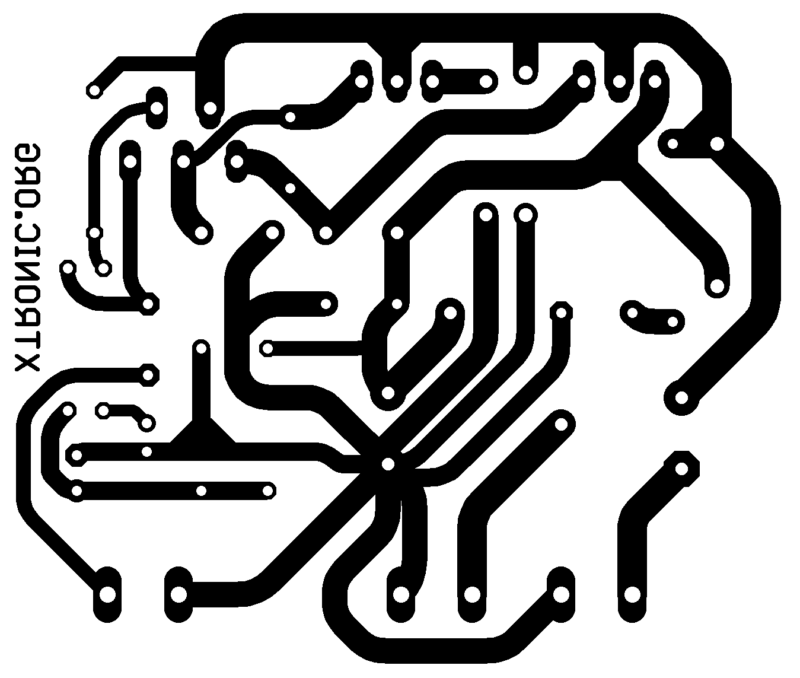 Part List TDA2030 +  transistors BD908/BD907 – 18W HI-FI audio amplifier and 35W driver
Parts
Value
Resistors 1/4 W* 5%
R1* R8*
1.5 Ohms = 2-Watt resistor
R2, R3, R6
56k = Green, Blue, Orange, Gold
R4
1 Ohm = Brown, Black, Gold
R5
30k = Orange, Black, Orange, Gold – If you can't use 27K + 3.3K
R7
3.3k = Orange, Orange, Red, Gold
Capacitors
C1,C4
2.200µF/50V = Electrolytic Capacitor
C2, C5, C6
0.22µF = Capacitor de poliéster
C3
2.2µF/50V = Electrolytic Capacitor
C7
22µF/50V = Electrolytic Capacitor
C8
10µF/50V = Electrolytic Capacitor
Semiconductors
D1, D2
1N4007 or equivalent
IC1
TDA2030A – Audio amplifier integrated circuit
T1
BD908 or equivalent, see text
T2
BD907 or equivalent, see text
Connectors
IN
Audio Input
OUT
Audio Output
VCC
Power supply connector
Miscellaneous
Power supply, cooler for the IC and transistors, printed circuit board, solder, amplifier box, 50 watt 4/8 Ohms speakers.
Download PDF files for this assembly: PCB component side, copper side, silk, schematic, Datasheet.
Gerber added.
Buy kits TDA2030 in AliExpress with free Shipping in the Worldwide.
We are sorry that this post was not useful for you!
Let us improve this post!
Tell us how we can improve this post?