TDA7293 amplifier circuit diagram with PCB 2x 100W. Amplifier circuit stereo audio with good power, using integrated circuit TDA7293 for up to 2x 100 Watts. With Suggested PCB mounting design. Includes power supply to the circuit itself, thus only requires a transformer to power. PCB compact size, even being single sided. Allowing mount a power amplifier and compact with good quality, ideal for various applications.
Includes power supply on board, only requires a transformer to power the circuit.
The part of the power supply uses bridge rectifier, large electrolytic capacitors to filter values ​​can be used since the 4.700μF to  12.000μF. The LEDs, in series with the resistor and indicate on state, serve to discharge the electrolytic capacitors.
Includes circuit mute / stand-by, but was not placed key to turn on and off, is to avoid clicks in the speakers on and off, being unnecessary to use the relay output.
The power transformer can be from 18-0-18 to 33-0-33 / 200VA, with transformer with lower voltage may need less current too.
The integrated circuit body should be insulated from the heatsink using mica or plastic thermal pad to insulate the screw.

About the TDA7293 amplifier circuit diagram with PCB
This is another application for this versatile integrated circuit that allows simple bridge and parallel mounting. This time we present the stereo version. This circuit also has good sound quality and protection against overheating and short circuits.
It includes a power supply on the board, requiring only a transformer to power the circuit.
The source part uses a rectifier bridge, large electrolytic capacitors for filter, values from 4,700µF to 10,000µF can be used. The leds in series with the resistors not only indicate the on state, but also discharge the electrolytic capacitors.
The mute/stand-by circuit is included, although no key was placed to activate and deactivate it, but it serves to avoid clicks in the speakers when turning them on and off, making it unnecessary to use a relay in the output.
The board design has close tracks, so be careful when "fabricating" your PCB, to check for possible shorts.
The transformer can be from 12-0-12 to 28-0-28, with a lower voltage transformer you may need less current too! For transformer related calculations, see this article. To see a graph of power vs voltage ratio, check the PDF datasheet of the IC.
Capacitor C2 and C23 form the AC coupling for our amplifier and with R1 and R10 form a high-pass filter circuit, influencing mainly the low frequencies (bass). Using a 470nF capacitor according to the datasheet we have a cut-off at about 15Hz, and if a 1uF capacitor (our case) is used we have a cut-off at about 7Hz. For a 2.2uF capacitor, we have 3.2Hz.
The formula is f = 1/(2ΠRC)
The resistor R15 /C21 and R4 /C22, form a low-pass filter to keep high-frequency signals away from our power amplifier. For the values used, we have a cutoff at about 400 KHz. If you prefer, change the components with larger values and lower the cutoff frequency.
The formula is f = 1/(2ΠRC)
The mute circuit was implemented according to the circuit available in the datasheet, and capacitors C5 and C6 together with R5 and R7 are responsible for the time constant when switching the amplifier on and off and avoiding "pop".
Resistors R11-R13 and R2-R3 are responsible for the gain and in the circuit configuration they are set to 30 dB, you can change these components to alter the gain. However, make sure that R11-R2 is the same value as R13-R3.
The resistors R1-R10 are the ones that determine the input impedance of the amplifier.
The circuit formed by R6-C4 and R12-C16 is a Boucherot cell, also known as a Zobel net. A Zobel net helps prevent oscillation that can occur in parasitic induction of the long speaker wires. It also acts as a filter to prevent radio interference coming through the speaker wires from reaching the inverter input of the amplifier through the feedback loop.
Capacitors C7 and C19 are for DC decoupling of the feedback circuit, if you prefer to use larger values to improve bass response. Capacitors C3 and C17 are for bootstrapping and have different position for TDA7293 compared to TDA7294, TDA7295 and TDA7296. On the PCB, it is indicated as 93/94.
Table of CIS that can be used in our TDA7293 Amplifier and equivalent.
| CI | TDA7293 | TDA7294 | TDA7295 | TDA7296 |
| --- | --- | --- | --- | --- |
| Maximum power | 100W | 80W | 60W | 50W |
| Maximum voltage at 4 Ohms* | 33VDC | 30V DC | 26VDC | 22VDC |
| Maximum voltage at 8 Ohms* | 40VDC | 38VDC | 35VDC | 30VDC |
*Dual power supply, stereo mount.
Schematic TDA7293 amplifier circuit diagram with PCB
Suggested PCB layout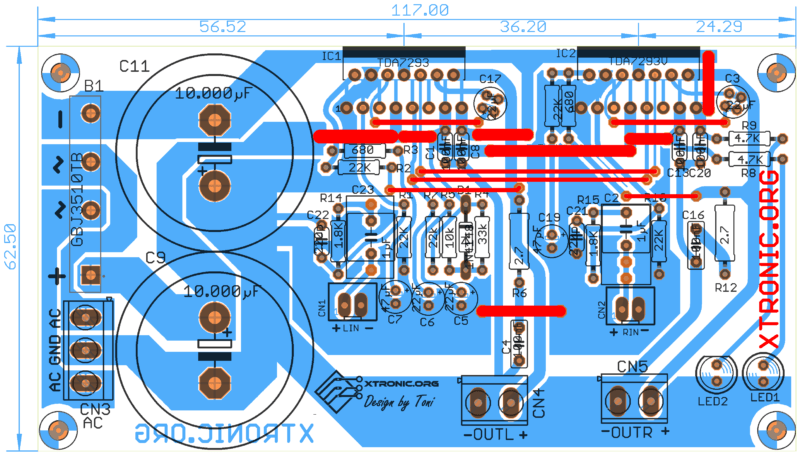 BOM for mounting tda7293 stereo
Last Update: 09/11/2021 18:24
Part
Value
Description
Quantity
Capacitors
C1, C4, C8, C13, C16, C20
100nF/100V
Ceramic Capacitor
6
C2, C23
1µF/63V
Polyester Capacitor
2
C3, C5, C6, C17
22µF/63V
Electrolytic capacitor
4
C7, C19
47µF/63V
Electrolytic capacitor
2
C9, C11
10.000µF/63V
Electrolytic capacitor
2
C21, C22
220p/100V
Ceramic Capacitor
2
Semiconductors
D1
1N4148
Diode
1
IC1
TDA7293, TDA7294 or TDa7295, or TDA7296
Audio amplifier integrated circuit
2
B1
GBJ3510, GBJ2510 or equivalent
Bridge rectifier
1
LED1, LED2
Led 5MM
Red LED or color of your choice
2
Resistors 1/4W
R1, R2, R7R10, R11
22K
Red, red, orange, gold
4
R3, R13
680
Blue, gray, brown, gold
2
R4
33k
Orange, orange, orange, gold
1
R5
10k
Brown, black, orange, gold
1
R6, R12
2,7 ohm 1 Watt
Red, violet, gold, gold
2
R8, R9
4,7K
Yellow, violet, red, gold
2
R14, R15
1,8K
Brown, black, red, gold
2
Miscellaneous
CN1
LIN
Jst Xh 2-Way Connector 2.54 mm pitch or equivalent
1
CN2
RIN
Jst Xh 2-Way Connector 2.54 mm pitch or equivalent
1
CN3
AC
Terminal block 3 pin 5.08 mm
1
CN4
OUTL
Terminal block 2 pin 5.08 mm
1
CN5
OUTR
Terminal block 2 pin 5.08 mm
1
Solder, Wires, PCB, housing, connectors, insulation for the CIS, heatsink, etc.
Download PDF files of this assembly: TDA7293 datasheet, copper side plate, component side.
Gerber added
Buy kits TDA7293 in AliExpress with free Shipping in the Worldwide.
We are sorry that this post was not useful for you!
Let us improve this post!
Tell us how we can improve this post?