Amplifier circuit stereo audio with good power, using integrated circuit TDA7293 for up to 2x 100 Watts. With Suggested PCB mounting design. Includes power supply to the circuit itself, thus only requires a transformer to power. PCB compact size even being single sided. Allowing mount a power amplifier and compact with good quality, ideal for various applications.
Includes power supply on board, only requires a transformer to power the circuit.
The part of the power supply uses bridge rectifier, large electrolytic capacitors to filter values ​​can be used since the 4.700μF to  12.000μF. The LEDs in series with the resistor and indicate on state, serve to discharge the electrolytic capacitors.
Includes circuit mute / stand-by, but was not placed key to turn on and off, is to avoid clicks in the speakers on and off, being unnecessary to use the relay output.
The power transformer can be from 18-0-18 to 33-0-33 / 200VA, with transformer with lower voltage may need less current too
The integrated circuit body should be insulated from the heatsink using mica or plastic thermal pad to insulate the screw.

Schematic stereo audio amplifier with TDa7293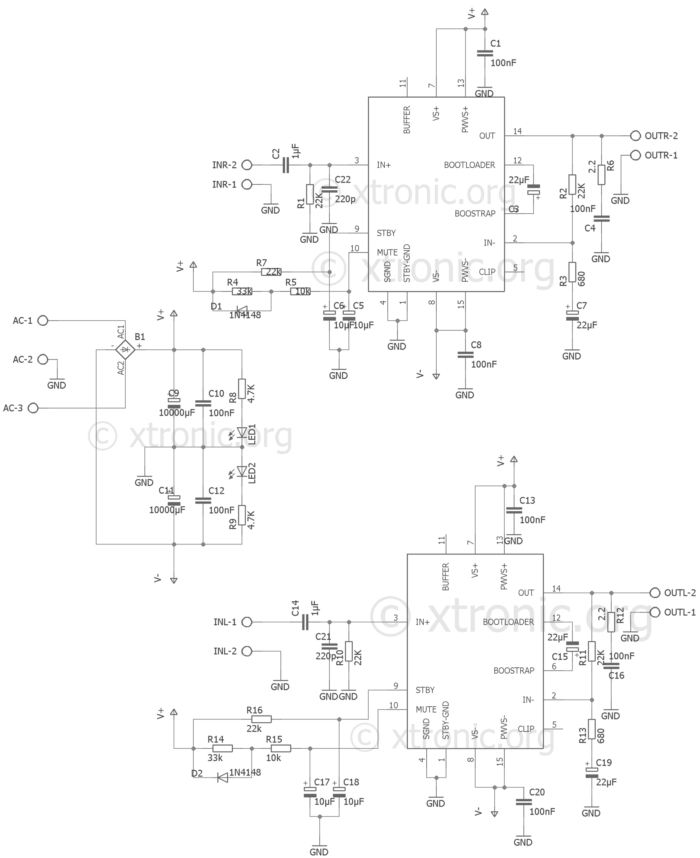 Suggested PCB layout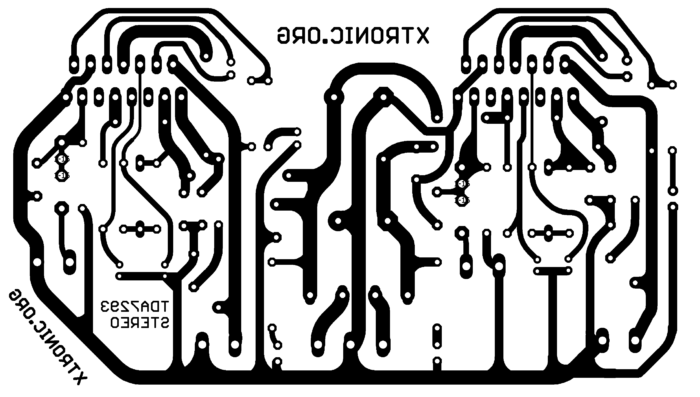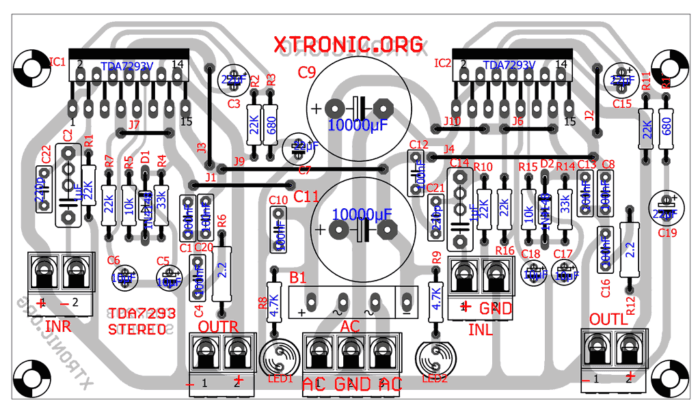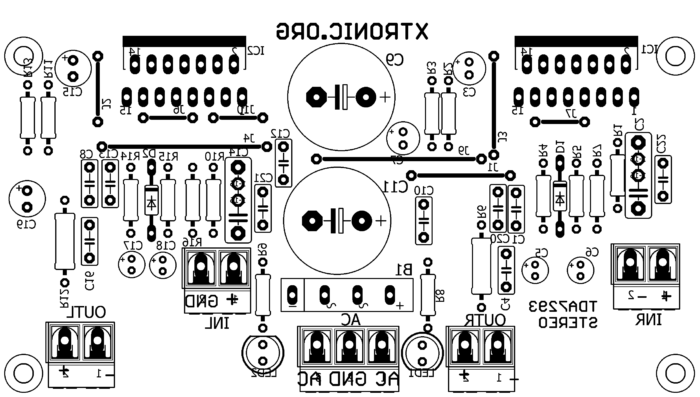 List of components for assembly of audio amplifier with TDA7293.
Parts
Value
Resistor's 1/4 Watt* 5%
R1, R2, R10, R11
22K – Red, Red, Orange, Gold
R3, R13
680 – Blue, Grey, Brown, Gold
R4, R14
27k – Red, Violet, Orange, Gold
R5, R15
100k – Brown, Black, Yellow, Gold
R6, R12*
2.2 – 1 Watt- Red, Red, Gold, Gold
R7, R16
33k – Orange, Orange, Orange, Gold
R8, r9
4.7K – Yellow, Violet, Red, Gold
Capacitor
C1, C4, C8, C10, C12, C13, C16, C20
100nF – capacitor polyester
C2, C14
1µF – capacitor polyester
C3, C7, C15, C19
22µF/50V – electrolytic Capacitor
C5, C6, C17, C18
10µF/50V – electrolytic Capacitor
C9
4.700µF to 10.000µF/50V – electrolytic Capacitor
C11
4.700µF to 10.000µF/50V – electrolytic Capacitor
Semiconductors
D1, D2
1N4148 – Diode
IC1, IC2
TDA7293  – Audio amplifier integrated circuit ST Microelectronics
B1
GBU15G or equivalent – Bridge rectifier
LED1, LED2
red LED 3mm
Description of the connectors
AC
Connector to the transformer – 18-0-18 to  33-0-33
INL
Left channel audio input
INR
Right channel audio input
OUTL
Left channel audio output
OUTR
Right channel audio output
Miscellaneous
Welding, Wire, Printed Circuit Board, Box, connectors, transformer, heat sink, etc..
Download PDF file of Assembly TDA7293 Datasheet, plate the copper side, PCB component side.
Download PDF Mirror
Buy kits TDA7293 in Aliexpress with free Shipping in the Worldwide.