Circuit regulated power supply, adjustable from 1.2 to 30V/1.5A with the ic regulator lm317 use to substitute eliminator of piles and batteries in your circuits
This power supply uses the LM317T integrated circuit, which allows the output voltage to be varied between 1.2 and 30V with currents up to 1.5 Amps. To be used as a battery and battery eliminator in most applications.
Unlike complicated transistor sources, this is an excellent choice for anyone who wants an adjustable power supply with a current capacity of up to 1.5 amperes. The CI lm317 is low cost and can be found with facilities in electronics stores.
In the AC connectors you must connect a 24 volt transformer with a current capacity of at least 1.5 amperes.
The transformer that will determine the maximum voltage obtained at the output of the power supply, in this way you must choose a transformer that meets your needs.
To find out which transformer you need, make a simple account:
Tt = (Tm / 1.4142) + 2
Tt: Voltage in the Transformer
Tm: Maximum voltage
Example, I need an adjustable power supply up to 24V
Tf = (24 / 1.4142) +2 = 18.97
Then we will use a transformer with commercial value of 20VAC.
For other calculations see this calculator for Windows
The bridge rectifier bridge accepts equivalents from 2A / 200V, such as RS207, KBL404, KBL405, KBL406, KBL407, MDA970A5, FBU4D, FBU4F, FBU4G, KBP304, KBP305, KBP306, KBP307, Ts4b05g, Kbu808.
Schematic Lm317 adjustable voltage regulator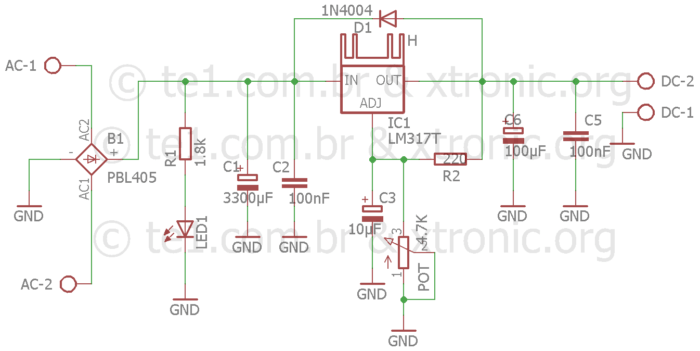 Modifications to the power supply circuit with lm317t
To fine voltage adjustment use a 220Ω potentiometer in series with the potentiometer of 4.7k.
Connect a voltmeter to the output to determine the voltage. Or use the multimeter.
You can use this source with fixed voltage, to power certain equipment, example 17.8 volts per 1 Ampere.
You can use 2 or 3 LM317 to increase current capacity up to 4 amps use resistors of 0.22Ω 10 W at the output of each lm317.
Suggestion for printed circuit board for power supply lm317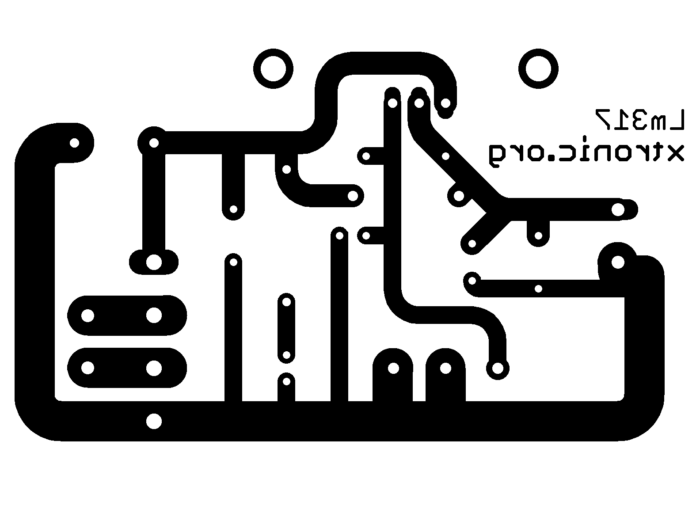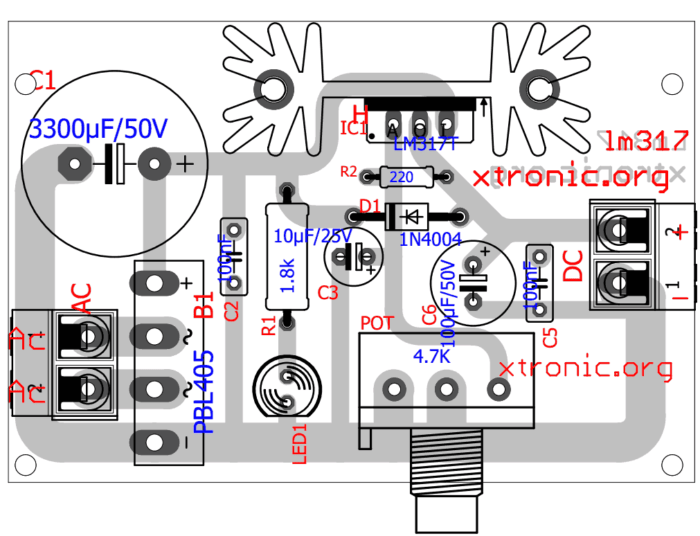 Part list
Component
Value
Resistors
R1
1.8k 1W
R2
220 –
Capacitors
C1
3300µF – Capacitor Electrolytic
C2, C5
100nF – Capacitor Ceramic
C3
10µF – Capacitor Electrolytic
C6
100µF – Capacitor Electrolytic
Semiconductors
B1
KBL406 (600V/4A) or equivalent
D1
1N4004 – Diode
IC1
LM317T – Voltage regulator adjustable positive
Connectors
AC
Terminal block connector 2 screws – AC input
DC
Terminal block connector 2 screws – DC output
LED1
Red Led 5mm
Miscellaneous
POT
4.7K – Single potentiometer
Printed Circuit Board, Welding, Wires, Transformer according to design, Box, Heat sink for Lm317, etc.
Buy kits LM317 DIY in Aliexpress with free Shipping in the Worldwide.