The circuit of the amplifier with TDA7294 was a big hit among our readers, so bring more than this version of the amplifier with TDA 7294 "Brutus," this is an application bridge to the tda7294 that can provide up to 170 Watts @ 8ohms, 38 VDC.
The TDA7294 integrated circuit developed by SGS Thompson (www.st.com), allows you with little money, have a complete amplifier, it is designed as an AB class audio amplifier and is ideal for use in home systems Theater and high quality amplifiers for easy assembly. It is capable of working with 4, 8 and 16 Ohms loads (speakers). It is capable of delivering 100 Watts @ 4 Ohms, VS = + – 29V, 100 Watts @ 8 Ohms, Vs = + – 38V. The total distortion is only 0.1% at PO = 0.1 to 50 Watts and F = 20Hz at 20KHz.
In this version of Bridge or Bridge amplifier, keep in mind the impedance of the speakers! 8 Ohms is the minimum recommended is 16 ohms using only voltage up to +-38Volts.
R = 8 Ohms  VS =+-25VDC, PO = 150 Watts
R = 16 Ohms Vs = +-35VDC, Po = 170 watts
Diagram of Brutus – Schematic circuit amplifier with TDA 7294 – 170 Watts x2 – click for enlarge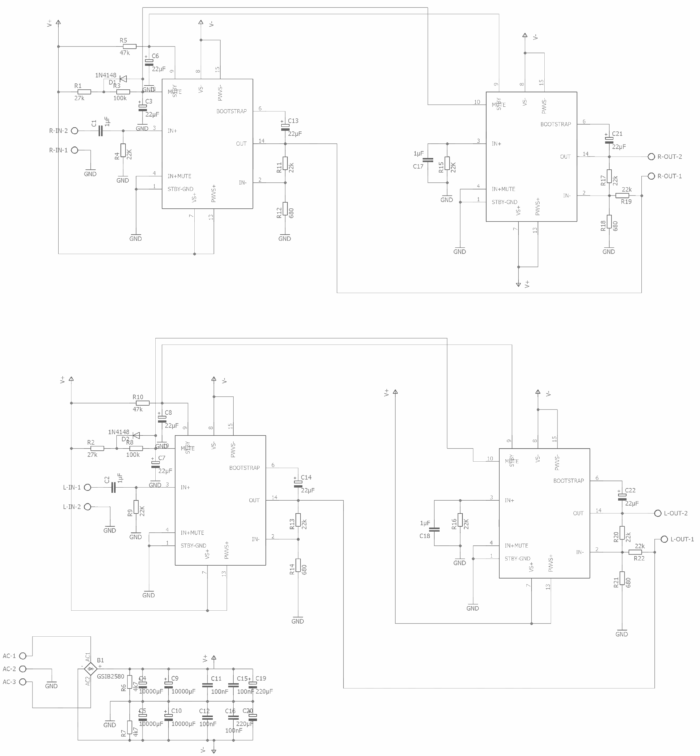 The circuit is divided into two main parts the power supply and the power amplifier.
Power supply for Brutus – The power supply is composed of a 18-0-18 to 26-0-26 @ 350VA transformer, The bridge rectifier must be a GSIB2580 or equivalent, the capacitors can be from 4.700μF/50V Up to 10.000μF/50V. There are also 2 ceramic capacitors and 2 resistors, the function of these resistors is to discharge the large electrolytic capacitors, when you turn off the circuit.
Power amplifier – The amplifier part is configured to work in stereo bridged stereo, using 4 integrated circuits, resistors R11, R12, R17, R18 (R) and R13, R14, R20, R21 (L) determine the gain of the amplifier. With these components is set to 30 dB. The mute/Stand-by circuit is connected directly to the VCC of the circuit. The input impedance is determined by the resistors R4 and R9.
When assembling the integrated circuits in the heatsink, you must use insulated bushings to avoid electrical contact between the metal body of the IC and the heatsink.

Suggested PCB mounting Brutus – bridged stereo amplifier 2 x 170 Watts (300 + watts total) – click in images for enlarge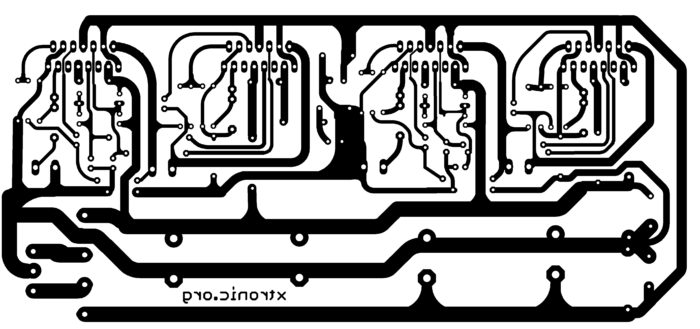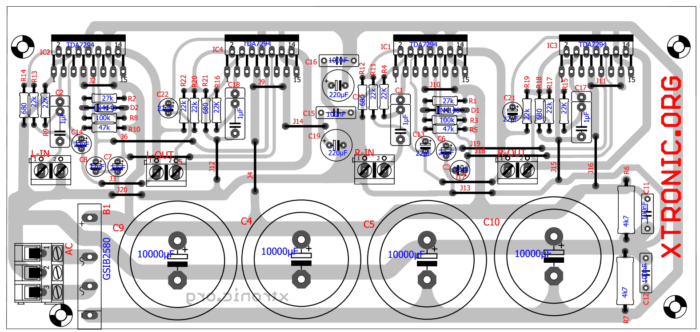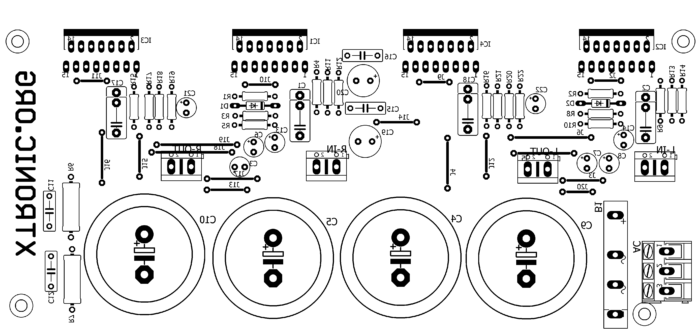 About Brutus circuit assembly
The printed circuit board suggested for this assembly is single face, to facilitate mainly the life of the beginners … however if it is simple face there comes Jumpers! Connect pieces of wire, interconnecting the dots, paying attention to the thickness of the jumpers at the power connection points.
 List of material to mount the amplifier in bridged Brutus
Parts
Value
Resistors 1/4W
R1, R2
27k
R3, R8
100k
R4, R9, R11, R13, R15, R16, R17,R19, R20, R22
22K
R5, R10
47k
R12, R14, R18, R21
680 Ohms
R6, R7
4,7K ~ 10K – 2 Watts
Capacitors
C1, C2, C17, C18
1µF /250V – Polyester Capacitor
C3, C6, C7, C8, C13, C14, C21, C22
22µF/50V – Electrolytic capacitor
C4, C5, C9, C10
4.700µF ~ 10.000µF/50V – Electrolytic capacitor
C11, C12, C15 C16
100nF /100V – Ceramic Capacitor
C19, C20
220µF /50V – Electrolytic capacitor
Semiconductors
B1
Bridge rectifier VSIb2580, GSIB2580, D25xb60, GBJ2510, or equivalent
D1, D2
1N4148
IC1, IC2, IC3, IC4
TDA7294
Connectors
L-IN
Terminal block connector 2 screws – Left Input
L-OUT
Terminal block connector 2 screws – Left Output
R-IN
Terminal block connector 2 screws – Right input
R-OUT
Terminal block connector 2 screws – Right output
AC
Terminal block connector 2 screws – Transformer
Miscellaneous
Transformer
18-0-18 at 26-0-26 VAC /8A
Printed Circuit Board, Welding, Wires, Box, heatsink, etc.
Download the PDF files to mount stereo amplifier Bridge: Silk Screen, PCB, PCB component side, Silk screen, TDA7294 Eagle Library, TDA7294 Datasheet
Buy Diy kits TDA7294 in Aliexpress with free Shipping in the Worldwide.