TDA1524A TDA1524 tone control circuit diagram, tda1524a preamplifier PCB layout, tda1524 circuit diagram. Stereo preamplifier circuit based on the Integrated Circuit TDA1524A. Contains components for amplification and pre-Tone controlling. The signal processing is done by the voltage controlled TDA1524A.
This manufactured by Philips IC (NXP) Semiconductors, allows for tone control voltage and can be used in more complex designs using microcontrollers. Here we use linear potentiometers to control tone, volume and balance. The circuit is completed with the source and the suggestion of the printed circuit board, to facilitate assembly. Ideal circuit to be complemented by the power amplifier circuit posted here on the blog.
The device is designed as an active stereo-tone/volume control for car radios, TV receivers and mains-fed equipment. It includes functions for bass and treble control, volume control with built-in contour (can be switched off) and balance. All these functions can be controlled by d.c. voltages or by single linear potentiometers.
Features
 Few external components necessary
 Low noise due to internal gain
Bass emphasis can be increased by a double-pole low-pass filter
 Wide power supply voltage range.
Description of pre tonal circuit with IC TDA1524A Stereo – With Bass, Treble, Balance, Volume and Loudness
Description of Stereo Pre-Tone Circuit with IC TDA1524A – With Bass, Treble, Balance and Volume + Loudness adjustments
The circuit with TDA1524 has a gain of 20DB and tone control of ±15dB, if you prefer to mount it in a DIP 18 socket for easy maintenance.
The power supply uses a 12V 250mA transformer, to regulate the voltage at 12 volts use an LM7812T type Ci (any prefix). If you are using an amplifier project that already has a well-filtered source, you can omit the transformer, diodes, and replace the 1000µF capacitor with a 470µF one. The LED to indicate the active state of the circuit, and can also be omitted if you prefer.
The audio inputs are coupled by C13 and C15, to not allow DC voltage to pass to the audio source device, 100nF capacitors are used in each potentiometer to decouple any AC signal from the control inputs. Resistors R5 and R6 are to improve stability with capacitive loads, R3 and R4 prevent current spikes when switching on the load. C9 and C14 are for controlling the
loudness contour control. C5 and C6 are for HF stability.
C21, C22, R7 and R8 were added, being a double-pole low-pass filter for better bass. If you want to avoid using it like this, don't put these components and jumper C21 and C22. Keeping the original circut.
In connector S1, is to connect the loudness key, and works like this with the key turned to R2 this circuit is disabled, if you do not want to use this feature, just connect a jumper in place so that the resistor R2 (2.2K) is connected to the circuit.
tda1524 tone control circuit

preamplifier with tone control and Volume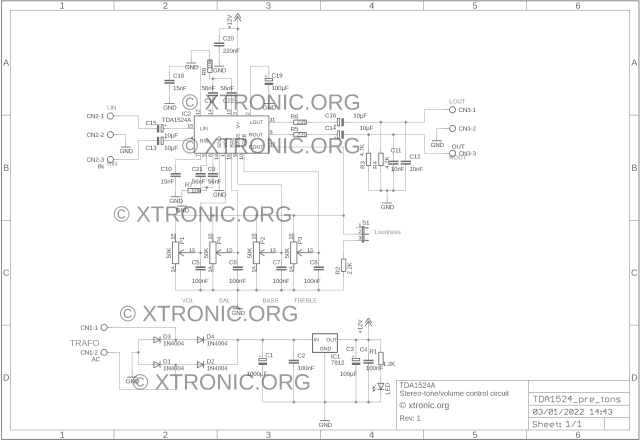 tda1524a preamplifier PCB layout

– Bass, Treble, Balance, and Volume
BOM to build a stereo pre-tone with integrated circuit
Last Update: 06/10/2021 20:25
Part
Valor
Descrição
Quantidade
Capacitors
C1
1000µF/25V
Electrolytic Capacitor
1
C2, C4, C5, C6, C7, C8
100nF
Ceramic Capacitor
6
C3, C19
100µF/16V
Electrolytic Capacitor
2
C9, C17, C21, C22
56nF
Film Capacitor
4
C10, C18
15nF
Film Capacitor
2
C11, C12
10nF
Film Capacitor
2
C13, C14, C15, C16
10µF/16V
Electrolytic Capacitor
4
C20
220nF
Film Capacitor
1
Semiconductors
D1, D2, D3, D4
1N4004
Diode
4
IC1
LM7812
12V positive voltage regulator
1
IC2
TDA1524A
Stereo tone control and volume control circuitry.
1
LED
LED 5 mm
Red LED
4
S1
Pin header or 3-position switch
Loudness Switch
Resistors 1/4W
R1
1.2K
Brown, Red, Red,  Gold
1
R2
2.2K
Red, Red, Red,  Gold
1
R3, R4
4.7K
Yellow, Violet, Red, Gold
2
R5, R6
220
Red, Red, Brown, Gold
2
R7, R8 (Optional)
10k
Red, Red, Brown, Gold
2
Miscellaneous
P1, P2, P3, P4
50K or 47K
Potenciômetro Linear
4
CN1
AC (Connector for the transformer)
Terminal block 2 pin 5.08 mm
1
CN2
IN (Stereo Audio Input Connector)
Terminal block 3 pin 5.08 mm
1
CN3
OUT (Stereo Audio Output jack)
Terminal block 3 pin 5.08 mm
1
Solder, Wires, Circuit box, printed circuit board, socket for the IC, fuse, etc.
Download the files for this project: PCB, Silk, Schematic, Component Layout, Datasheet TDA1524A, Eagle Library TDA1524A.
Gerber added
See Amplifier circuits to match this pre-tone
See other preamplifier circuits
Download Datasheet em PDF TDa1524A
Buy TDA1524A IC from Aliexpress

We are sorry that this post was not useful for you!
Let us improve this post!
Tell us how we can improve this post?
Xtronic.org blog author. Electronics technician for the technical school of Brasilia - Brazil. Interested in electronics, circuits and technology in general.