Stereo preamplifier circuit based on the Integrated Circuit TDA1524A. Contains components for amplification and pre Tone controlling. The signal processing is done by the voltage controlled TDA1524A. This manufactured by Philips IC (NXP) Semiconductors, allows for tone control voltage and can be used in more complex designs using microcontrollers. Here we use linear potentiometers to control tone, volume and balance. The circuit is completed with the source and the suggestion of the printed circuit board, to facilitate assembly. Ideal circuit to be complemented by the power amplifier circuit posted here on the blog.
Description of pre tonal circuit with IC TDA1524A Stereo – With adjustment Bass, Treble, Balance,  Volume and Loudness
The circuit TDA 1524 has a 20DB gain and control tone +-15dB, if you prefer to mount it in a DIP socket 18 to facilitate maintenance.
The power supply uses a transformer 12V/250mA to regulate the voltage at 12 volts using a IC 7812T (any prefix). If using on a project that already has amplifier and a power supply, you can omit the transformer, diodes and replace by the 4700μF capacitor by a 470 or 1000μF . The LED used to indicate the active state of the circuit can also be omitted if you prefer.
S1 in the connector is to be connected to key loudness, and works well with the key turned to the R2 circuit is disabled, if you want to use this feature, simply connect a jumper in place so that the resistor R2 (2.2K) stay connected to the circuit.
Schematic of the preamplifier with tone control and Volume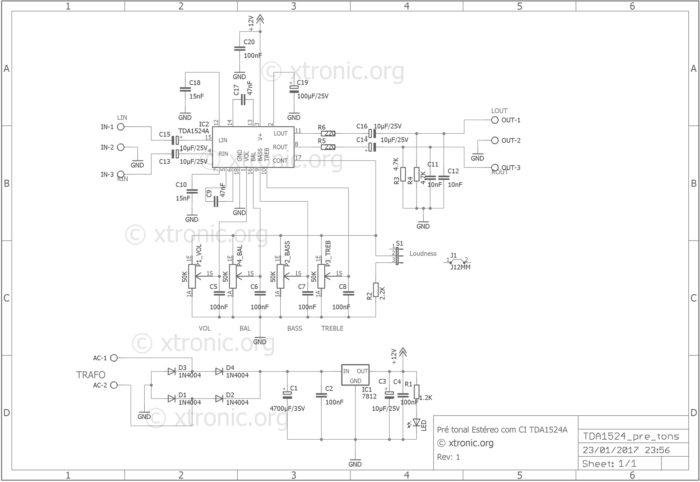 Suggested of the printed circuit board for the preamp with IC TDA1524 – Bass, Treble, Balance and Volume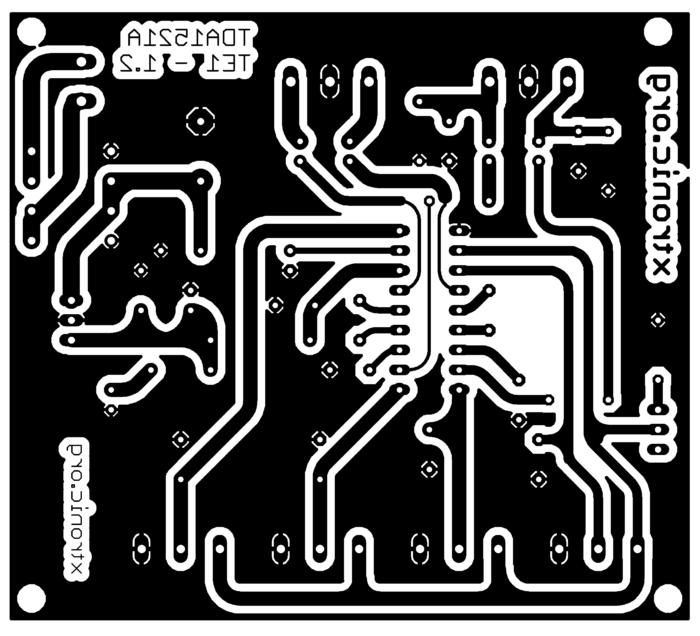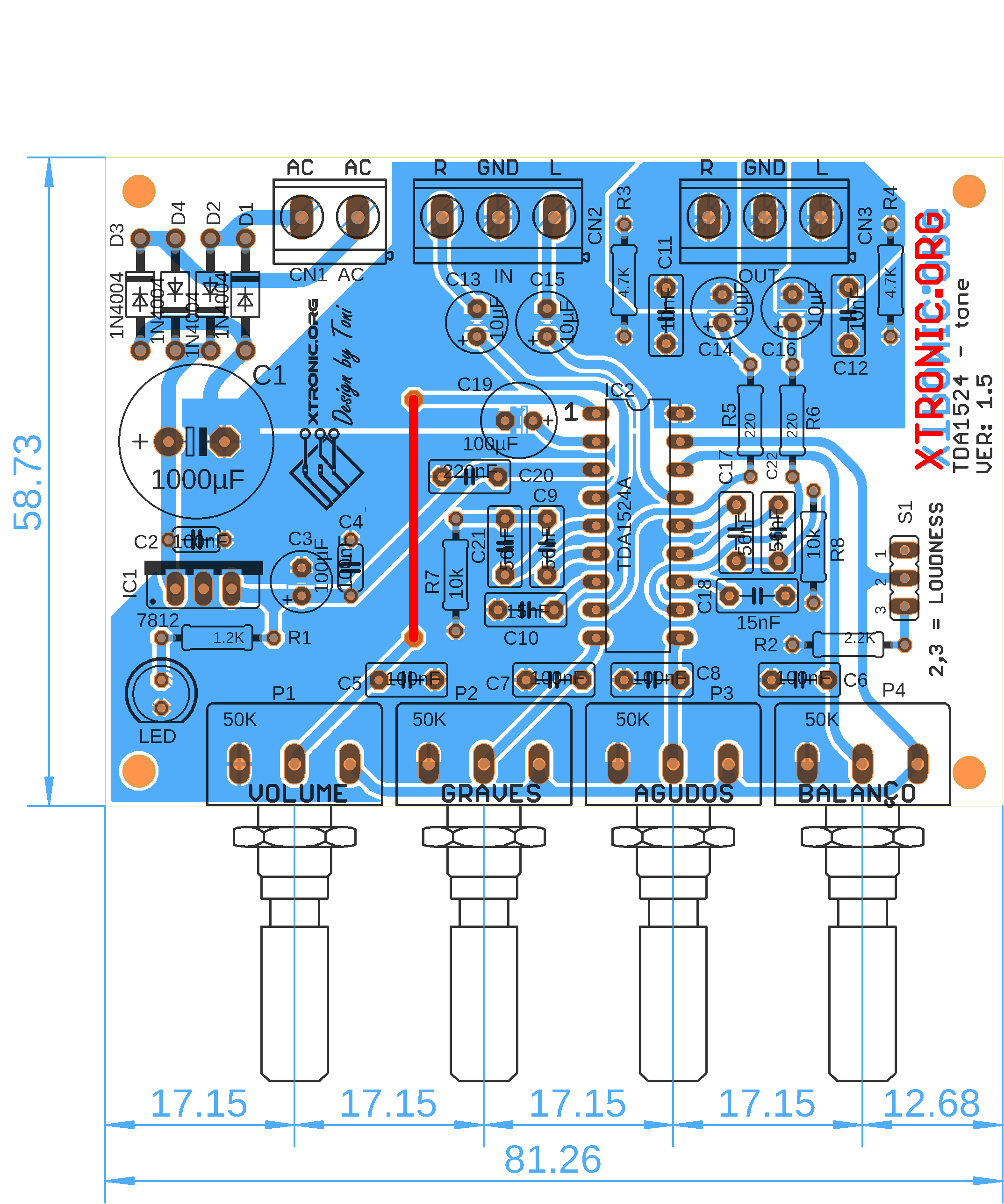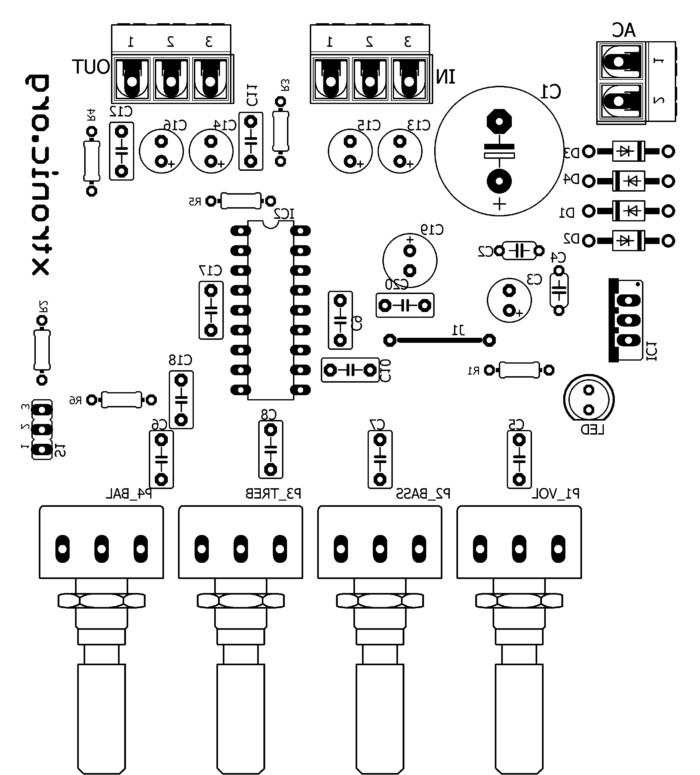 List of components for assembly circuit TDA1524A tone control with Bass and Treble
Parts
Value
Resistor's 1/4 Watt 5%
R1
1.2K – Brown, Red, Red, Gold
R2
2.2K – Red, Red, Red, Gold
R3, R4
4.7K – Yellow, Violet, Red, Gold
R5, R6
220 – Red, Red, brown, gold
Capacitors
C1
4700µF/35V – Electrolytic Capacitor
C2, C4, C5, C6, C7, C8, C20
100nF – Polyester Capacitor
C3, C13, C14, C15, C16
10µF/25V – Electrolytic Capacitor
C9, C17
47nF – Polyester Capacitor
C10,C18
15nF – Polyester Capacitor
C11, C12
10nF – Polyester Capacitor
C19
100µF/25V – Electrolytic Capacitor
Semiconductors
D1, D2, D3, D4
1N4004 or equivalent – rectifier diode
IC1
7812T – Positive voltage regulator 15 Volts
IC2
TDA1524A – Integrated circuit with volume and tone control Philips (NXP) Semiconductors
LED
Red LED
Miscellaneous
IN
Input Connector Stereo Audio
AC
Connector to the transformer
OUT
Connector for Stereo Audio Output
J1
J12MM – Jumper 12 mm piece of wire.
Trafo
Transformer 12 Volt
P1, P2, P3, P4
50K or 47K Linear Pot-
S1
Switch for Loudness
Welding, Wire, Cash for housing circuit, printed circuit board, the IC socket, fuse, etc..
Download PDF files for this project: PCB, Silk, Layout, Layout components, Datasheet TDA1524A, TDA1524A Eagle Library.
Buy TDA1524A IC from Aliexpress