TDA7293 amplifier TDA7294 amplifier circuit diagram #Minimus. Audio power amplifier project based in integrate circuit tda7294 IC circuit diagram or TDA7293 amplifier. Compact printed circuit board and is ideal to be used where a compact amplifier and with adequate power to be used in various applications, such as computer amplifier necessary, games, MP3 Player, Home Theater, Sound environment, amplified Cash, etc.
The TDA7294 is a monolithic integrated circuit in Multiwatt15 package, intended for use as audio class AB amplifier in Hi-Fi field applications (Home Stereo, self-powered loudspeakers, Top class TV). Thanks to the wide voltage range and to the high out current capability, it is able to supply the highest power into both 4 Ω and 8 Ω loads even in presence of poor supply regulation, with high Supply Voltage Rejection. The built-in muting function with turn on delay simplifies the remote operation, avoiding switching on-off noises.
All features
Thermal shutdown
short circuit protection
very low distortion
no boucherot cells
very high operating voltage range (±40v)
high output power (up to 100w music power)
dmos power stage
no switch on/off noise
very low noise
muting/stand-by functions
Features TDA7293 amplifier TDA7294 amplifier circuit diagram #Minimus.
Classic application using the IC TDA7293/TDA7294
To assemble with TDA7294 or TDA7293 just by changing the position of a capacitor.
Great audio quality
Easy assembly.
Uses just a few components in the assembly
Reduced size board 50 mm X 36 mm
Power -/+ 18-36 VDC (Symmetrical power supply)
Maximum power: 80 (7294) – 100 (7293) Watts RMS
Output Impedance: 4 at 16 Ohms.
Table of equivalent IC that can be used in our Amplifier.
| IC | TDA7293 | TDA7294 | TDA7295 | TDA7296 |
| --- | --- | --- | --- | --- |
| Maximum power | 100W | 80W | 60W | 50W |
| Maximum voltage at 4 Ohms* | 33 VDC | 30 VDC | 26 VDC | 22 VDC |
| Maximum voltage at 8 Ohms* | 40 VDC | 38 VDC | 35 VDC | 30 VDC |
*Symmetric power supply, stereo mount.
Also get to know these circuits:
Schematic TDA7293 amplifier, TDA7294 amplifier circuit diagram #Minimus.
Suggestion of printed circuit board for assembly of mini amplifier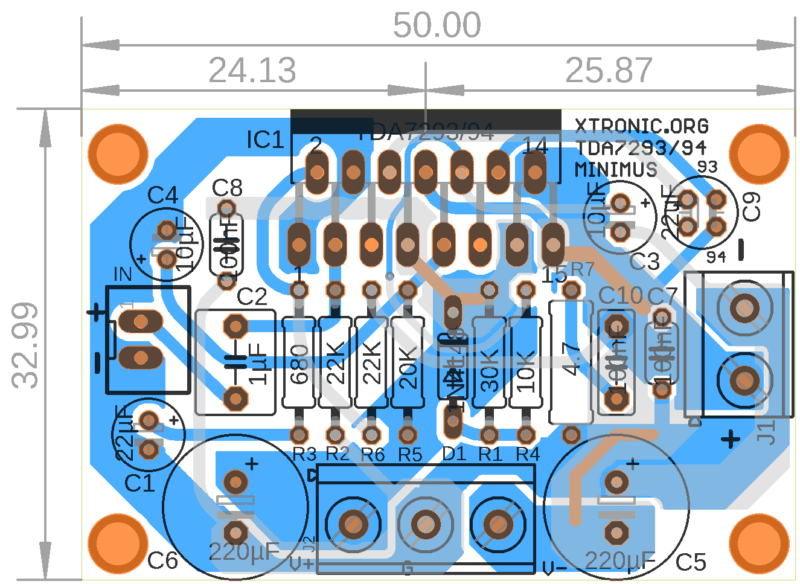 The transformer is connected at the power supply should be able to provide power equivalent to 1.4X the amplifier power. This power is on the DC voltage used.
In the chart below we can see what will be the maximum power, by matching Po(W) and Vs(+/-).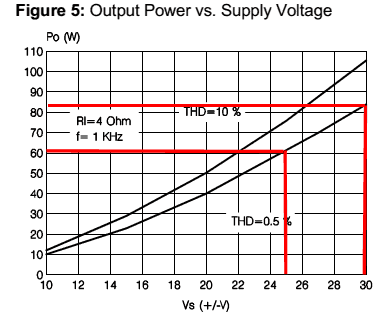 Eg: for 25V => 60W and 30V => 83 Watts. This when connected to speakers of 4 Ohms. This THD to 0.5%.
Note that for 4 Ohms the maximum is +/- 30VDC for TDA7294.
Below is the chart to TDA7294 linked into 8 Ohms – The power supply can be up until +-36VDC.
To determine what will be its maximum DC voltage according to the transformer using the following formula: Vf = (1,4 x Vi) – 0,5
Where: Vf = final voltage
Vi = Voltage in the transformer
Ex: For a 24-0-24 transformer have:
Vf= (1,4X24) – 0,5 = 33V
Ex: Transformer for +/-28VDC
28=(1,4xVI) – 0,5 = 1,4Vi=28-0,5 = Vi =27,5/1,4 = 19,64C
With this value at hand just go on the chart and find what will power for this case!
For TDA7293, see the Datasheet
Notice the layout how to assemble the capacitor properly for TDA7294 or TDa7293.
BOM for assembling the Minimus Power Series amplifier with TDA7294/93
Part
Value
Resistors 1/4 W 5%
R1, R3, R4
22K — Red, Red, Orange, Gold
R2
680 — Blue, Gray, Brown, Gold
R5
10K — Brown, Black, Orange, Gold
R6
33K — Orange, Orange, Orange, Gold
R7
4.7 Ohms — Yellow, Violet, Gold, Gold
Capacitores
C1, C2, C3,
100nF — Ceramic or Polyester Capacitor.
C4, C7
22µF/50V — Electrolytic Capacitor
C5, C6
47µF/50V a 220µF/50V — Electrolytic Capacitor
C9
1µF — Polyester Capacitor
C10, C11
10µF/50V — Electrolytic Capacitor
Semiconductors
D1
1N4148 — Semiconductor Diode
IC1
TDA7293 or TDA7294 – Audio amplifier integrated circuit.
Connectors
IN
Audio Input Connector
PW
power supply connector
OUT
Audio Out Connector
Diversos
Solder, Wires, Pci, Box, 18 to 36 Volt DC /2.5 Amp symmetrical supply, etc.
Download the files for this assembly Datasheet, PDF printed circuit board, schematic, component layout.
Gerber added.
Buy TDA7293 Amplifier board in AliExpress
We are sorry that this post was not useful for you!
Let us improve this post!
Tell us how we can improve this post?